Mumbai is a city like no other, dynamic and always on the go. But the best part of living in the city is that you always have a place to relax yourself when the hustle gets too hard. I have lived in Mumbai for about three years and have explored some incredibly beautiful getaways in Maharashtra which are not so far off from Mumbai. Surrounded by the spectacular Western Ghats, Maharashtra is at its best during the monsoon and if you happen to love scenic road trips like me, here is a list of places which you can explore over a weekend or when those public holidays come calling. So, without further ado, let's explore these 18 best weekend getaways from Mumbai that you can easily drive to.
You can use this list to plan for your weekend road trips from Mumbai. Don't have a car? Pick one using car rental apps – Zoomcar, Revv and Mychoize, that are now live in Mumbai.
Best weekend getaways from Mumbai:
#1 Pune
An obvious one to start with, Mumbai-Pune is a beautiful drive along the Western Ghats with the thrill of long tunnels on the Mumbai-Pune expressway. I had visited Pune for the NH1 weekender event which allowed me the chance to explore the city. Some great spots to visit are – Pawna Lake, Shaniwar Wada Palace, Osho Ashram and Mulshi Dam.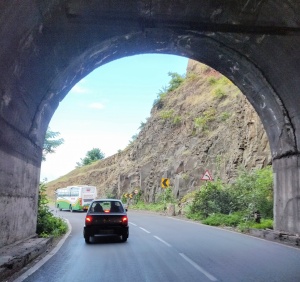 If you just want to chill – there are a lot of new cafes that have opened up in the city. You can also enjoy the nightlife at Koregaon Park which is well known for its pub scene.
#2 Nashik
Another well-known city in Maharashtra which is a 3-3.5 hours' drive from Mumbai. The Mumbai-Nashik highway is very well maintained and is a pleasure to drive on. Nashik is also known as the "Wine Capital of India" as many vineyards and wineries are located here.
I visited one of the famous wine tasting tours at Sula Vineyards. This is the one that you should not miss. I am not a wine connoisseur but this tour taught me how to taste and differentiate between different wines.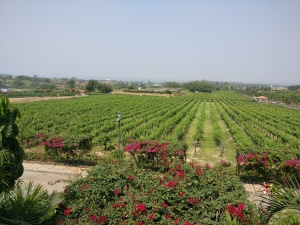 It will definitely peak your interest and you can take some bottles home if you wish to. Other famous vineyards worth a visit are – York Winery, Soma, Grover Zampa and Vallonne Vineyards. Do share your experience if you happen to visit 😊
#3 Harishchandragad
This is one of my favourite places to go trekking in Maharashtra. Entrenched in historical significance – this is a hill fort in the Ahmednagar district. It is one of the most famous hill forts in the region with multiple agencies that organize treks and camps here. One of the best weekend getaway from Mumbai for the adventure seekers.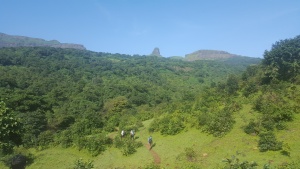 To reach Harishchandragad – the best way is to catch the central line local train to reach Kasara and take either Auto/Taxi to the base village in Ahmednagar.
Many different agencies use different routes and base villages and hence the timing can range from 3 hours to even 6 hours. I had taken the longish route in this case and enjoyed lush green valleys covered with clouds during the monsoon.
Some great places to see here are – Saptatirtha Puskharni temple, Kedareshwar Cave (home to the Shiva Linga surrounded by water) and the temple of Harishchandreshwar. The highest point of the fort is called Taramati peak and the view is just breathtaking.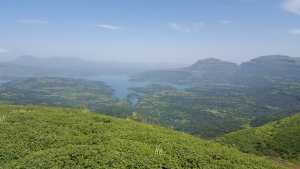 If you have a few days off, are physically fit and love trekking – this would be my recommendation #1 – especially for the monsoon season.
#4 Konkan Kada
Konkan Kada is another place to enjoy breathtaking views. Infact, you can combine this with #3 as both are quite close together but if you need to trek to both places – would recommend doing it over 2 days. At 3500 feet from sea level – this is a 2-3 hours trek from the Pachnai route.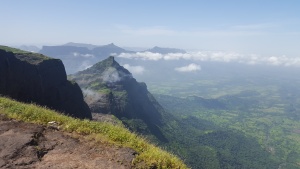 This is a cliff again in the same region as Harishchandragad but it deserves a separate mention for the brilliant views of the Konkan region facing towards the west.  This is the perfect site to enjoy camping, night trekking and even rappelling (Do not try on your own though – go with the experts).
#5 Lonavala
If you're looking to relax over the weekend or go for an adventurous trek – Lonavala is the right place for you. A mere 2 hours away from Mumbai – this place serves as the weekend home to many rich Mumbaikars.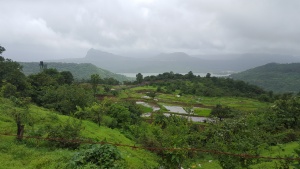 Rent out one of the scenic Airbnbs and just relax away. The weather here especially during monsoon is incredible and it will melt away all your stress for the week. Alternatively, if you want to look around – there are many places to see such as the Lonavala lake, Karla caves, Bhaja caves, Lion's point and the famous reverse waterfalls.
Do not forget to try the Lonavala's famous Chikki – you will find multiple stores along your way. Get some for the ride and to take home, you will not regret it.
#6 Khandala
Very close-by to Lonavala but equally beautiful place to spend your weekend. Many places to see – Rajmachi Fort, Tiger's leap, Duke's Nose, Kune waterfalls and Shooting point. You can probably combine with #5 if you want to cover more ground.
#7 Kashid Beach
A quaint paradise, Kashid is just a 3-hour drive away from Mumbai. If you're tired of the dirty beaches of Mumbai, this will give you a nice change of pace. Sip coconut water while you sit on the white sand and enjoy local cuisines. You can even go for homestays that will serve you lovely home cooked meals.
#8 Alibaug
Alibaug is another beach-side town near Mumbai. About 2.5-3 hrs by the road or alternatively, you can take the ferry from Gateway of India to Mandwa (1 Hr) and then take the bus to Alibaug (30 mins).
Alibaug has many beaches and forts nearby where you can choose to spend your time – Alibaug beach, Kolaba fort, Nagaon beach, Kihim beach, Akshi beach, Varsoli beach, Undheri fort and Kasim beach.
#9 Matheran
This is one of the most unique weekend getaways from Mumbai and one of my personal favorites. I visited Matheran during the month of August in 2018 and had a wonderful experience.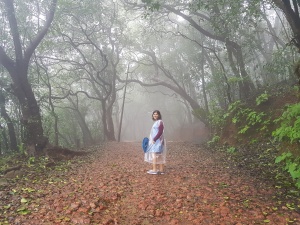 Vehicles are not allowed here and that's what makes this place so unique as the whole hill station needs to be explored on foot. It rains very heavily during monsoon and you are well advised to carry a raincoat with you.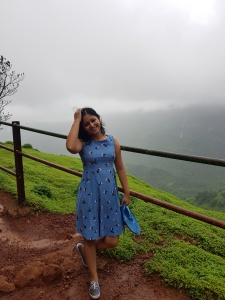 To reach Matheran – you need to drive 2-2.5 hours from Mumbai to reach the drop off point for Matheran. If you are not used to driving on steep slopes, I would suggest taking a taxi. Alternatively, you can also find drivers at the entry point of the steep slopes and for Rs. 200-300 (depending on your negotiation skills) – they will drive your car up the slopes to the Dasturi parking point. From there – you have plenty of options to go to Matheran. You can either walk up 40 mins, go on horseback or take a short train ride of 15 mins.
Places to explore in Matheran include mostly viewpoints such as Panorama point, Charlotte lake, Echo point, Honeymoon hill, Alexander point, One tree hill point, King George point and Louisa point.
#10 Kalsubai
At 5400 feet, Kalsubai is the highest peak in Maharashtra which gives way to beautiful panoramic views of the Sahyadri mountain range. This is one of the popular treks and while most part of the hike is super easy, there are ladders and railings that have been built at steep slopes which are hard for beginners to climb.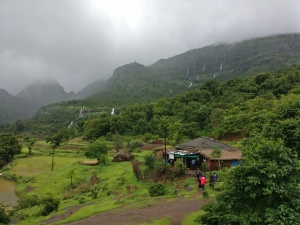 I had a different experience though, I got completely drenched in the rain as I made the biggest mistake of not bringing a raincoat. I could only get to about ¾ of the way up when my rain-soaked clothes made it really impossible for me to hike. So please do not make the same mistake and always carry a raincoat whenever you go for any monsoon trek- it's a MUST.
#11 Panchgani
Panchgani is also known as the land of strawberries. Once you visit here – you will realize how true that it is. Everywhere you look you will find strawberries – strawberry gardens, vendors selling strawberries (especially in the winter), products made from strawberries and even Panchgani's famous strawberry wine.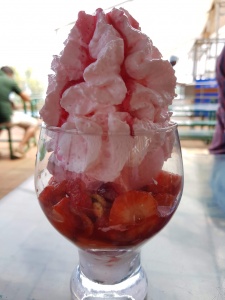 Panchgani is one of the most picturesque hill stations in Maharashtra. It's a 5-hour drive from Mumbai and you can plan a trip here on an extended weekend.

 

View this post on Instagram

 
There are many places to see in Panchgani but some of the must visits are –
Table Land – a vast plateau with caves and magnificent views
View Points – Sydney view point and Parsi Point
Mapro Garden – owned by the Mapro group. Here you can taste fresh strawberries and also purchase your favorite Mapro products
Boating in Venna Lake
Go Paragliding
Explore crafts at Devrai Art village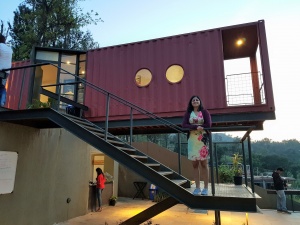 As a side note – I HIGHLY recommend staying at Zostel Panchgani. It's a beautiful property with great views and good vibes. The design is extraordinary and very different from your traditional properties.
#12 Lavasa
Great place to visit in Maharashtra especially if you're travelling as a couple. The city is very well planned and one of the first smart cities of the country. You realize this when you first set foot here. The streets look like they belong in Europe and combine that with the monsoon weather this is truly a great place to chill over the weekend. Lavasa is 4-hour drive from Mumbai.
Go for long walks with your partner along the lake in the evenings at the lakeside promenade and you will really feel at peace. The lakeside promenade is also home to a lot of hotels where you can stay right by the lake and be close to several restaurants with all types of cuisines.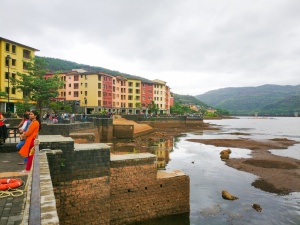 If you're feeling particularly adventurous – you can go to the Lavasa Nature Trail to get the raw flavor of nature. As for most places I have highlighted in this blog, you can also stop at different spots on the way to Lavasa and just enjoy the view of the western ghats.
#13 Lohagad Fort
The lohagad fort trek is probably the easiest trek in Maharashtra. It is situated close to Lonavala and a 2-2.5-hour drive from Mumbai. The entire trek has properly made stairs/pathways and so even a novice can easily go up to the top. It only takes 30 minutes to reach the spectacular views at the top from the car parking.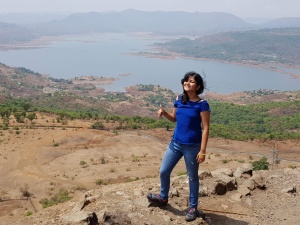 Lohagad fort – the "iron" fort – is entrenched in history. It was under the Maratha empire for a long time with a short stint of five years under the Mughal empire. When you visit the fort – you can make out why the Maharajas of the time would construct a fort at such heights to make them impenetrable.
#14 Mahuli Fort
Located in the Tansa wildlife sanctuary, Mahuli fort is the highest peak of Thane district in Maharashtra standing at 2815 ft tall. It is 1.5-hour drive from Mumbai. Alternatively, you can take the central line local to Asangaon station and take an auto-rickshaw from there (will take Rs. 200-250) to Mahuli base village.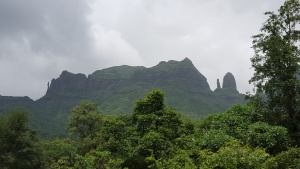 This is relatively long trek – 3 to 3.5 hours one way to the top – so do budget for the same. Parts of the trek are quite difficult with very steep slopes without any sort of support. There are also parts of the area that offer rock climbing opportunities if you're into that.
Do carry an extra set of clothes/swimming gear as there is a wonderful natural pool with a waterfall that you can swim in. This is god sent when you have trekked for 5 hours straight and are in need for refreshment.
#15 Kaas Plateau
Kaas Plateau or Kaas Pathar is often called Maharashtra's valley of flowers and for good reason. It's one of the best weekend getaways from Mumbai during the monsoon as that's when the flowers are in full bloom.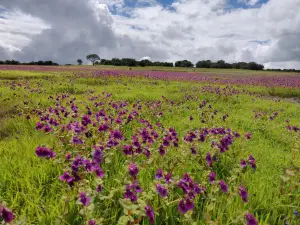 View this post on Instagram

 
It is totally worth driving the 5.5-6 hours from Mumbai to reach this beautiful plateau. I did the trip in one day enjoying driving on the Mumbai-Pune expressway and then engrossing myself in the beautiful flowers. The flowers at Kaas Plateau only bloom post monsoon in late August. So best to go either in late August or early September.
#16 Chinchoti Falls, Vasai
Chinchoti Falls is an amazing jungle trekking trail near Mumbai. It is only about an hour to 1.5-hour drive from Mumbai to reach Kaman village where you can park your car. From there you can get a guide who will take you through the wilderness and lush jungles to reach these wonderful waterfalls. Do pack your swimming gear and have fun😊the trek is not very difficult as there is hardly any elevation (125 ft) and walking through the jungle for a 1.5-2hours is an experience that is different from all the other treks I did in Maharashtra.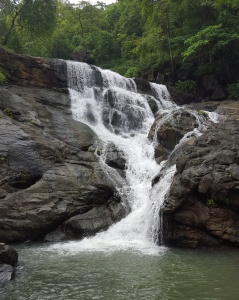 Interestingly, two dogs guided us throughout the trip. They met us at our car and took us along the jungle path to the falls and waited while we enjoyed and then took us back as well!
#17 Elephanta Caves
Elephanta caves is a UNESCO world heritage site near Mumbai. To reach there, you need to take a ferry from Gateway of India for Rs. 150-Rs. 200 for a 2-way trip. The earlier you reach Gateway the better to avoid weekend crowds. I recommend going during the winter or spring when the weather is a lot more pleasant.
Once you reach, you can enjoy the rock-cut art and architectures preserved from medieval times. Some of the collection is dated back to the 5th century with a large proportion dedicated to Lord Shiva.
#18 Imagica
Imagica is one of India's largest amusement parks. It has a water park, snow park and a theme park with multiple roller coasters for thrill seekers. This is a must visit as well if you are staying in Mumbai and is only 1.5 hours away by car. Imagica is one of the best weekend getaways from Mumbai, especially if you are travelling with kids.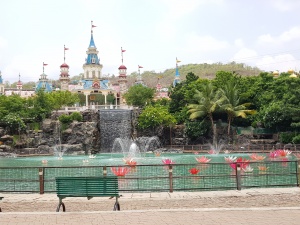 The park has something for everyone and highly recommend going with your family over the weekend. One tip I would give is not to go during the peak summers as it can become very difficult to wait in lines whilst sweating out in the hot sun. Speaking of lines – do go for the express tickets. They will be expensive but the joy of not waiting in queues for your rides is so worth it!!
That's it folks. Hope you enjoyed reading about the fun and adventurous list of best weekend getaways from Mumbai and I hope you try some of them. 😊
Also check out- Rajasthan Road Trip from Delhi : Ultimate 10 Day Itinerary
Pin for later: