On the precipice of Europe and Asia, Turkey is a wondrous location where cultures collide, east meets west and is the perfect concoction for an epic vacation. From the cultural streets of Istanbul, to the epic views of Cappadocia and the pristine beaches of Antalya – there is so much to see. If you are planning a post-pandemic trip to Turkey from India, here is a short and easy to follow guide on how to get Turkey tourist visa for Indians.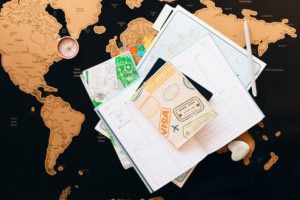 FAQs
Do Indians need a visa for Turkey?
Yes. All Indian passport holders need a tourist visa to visit Turkey.
Does Turkey offer an on-arrival Visa?
No. There is no on-arrival Visa facility for Indians. You need to apply for Visa in advance of your trip.
Turkey visa process for Indians
There are two types of Visas that Indians can apply for visiting Turkey :
E-Visa

Sticker Visa
1. E-Visa
The E-visa is the easier and faster of the two processes for Indians to get Turkey tourist visa, but there are certain prerequisites for the same.
Eligibility for Turkey E-visa
To be eligible to apply for e-Visa, the Indian passport holder must have a valid visa or residence permit issued for one of the following countries
United States

United Kingdom

Schengen Member State

Ireland
If you do not have the above – you will need to go through the Sticker Visa process
Documents required for Turkey E-visa
Scanned copy of the first and last page of your Passport

Two (2) recent colour photographs taken against a white background

Confirmed return flight ticket

Hotel reservation

Valid Visa or Residence permit of UK / USA / Schengen Country / Ireland
Application process for Turkey E-visa
Go to Visa Turkey website

Fill out the online application form

Upload the required documents

Finish Application by paying E visa price – Rs. 3200.

Wait for 24 hours to receive your Visa on Email

Take a print out of the Visa and attach it to your passport
2. Sticker Visa
To apply for the Sticker Visa process, you will need to follow the below steps – 
Go through the documents required on the website and schedule an appointment for processing

Share the documentations required on the appointment date along with your passport for sticker visa to get processed

Depending on the location where you to apply from the visa processing can take between 6-12 working days to get processed

You can choose to collect your passport from the center or opt for home-delivery of your passport
The Sticker Visa costs Rs. 4,480 for a single entry visa plus the service fee of the third party vendor of a minimum of Rs. 4,201. Hence the sticker visa is almost thrice the cost of the e-Visa. 
Hopefully this helps you get your Turkish Visa sorted out so you can plan a wonderful trip. Refer to my 10 day Turkey itinerary for first time visitors for details.
Please let me know if this was helpful and feel free to drop in your questions in the comments below.