When you visit Dubai for the first time, all the attractions will be brand new to you. However, the truth is that Dubai is forever coming up with newer attractions and fun things to do every year. This summer, let's forge ahead and find the best things for you to do in Dubai. We hope you have planned a nice, long trip to enjoy everything Dubai has to offer!
1. The View at the Palm
The 240 meter high The View at The Palm observation deck offers spectacular 360-degree panoramas of the Palm Jumeirah islands. No other view point offers this. You can feast your eyes on the Palm Islands, surrounded by the pristine, brilliant blue Arabian Gulf, and in the distance, the vibrant lights of Dubai. Don't miss out on this attraction. Book a trip to The View at The Palm, at Level 52 of the Palm Tower. For your enjoyment, there's a lovely café as well, plus an exhibition that takes you through the island's development process, a gift shop and acrylic aquarium tunnels.
2. The Palm Fountains
It's literally the biggest choreographed dancing fountains in the world, which has broken the record set by the Dubai Fountains. The Palm Fountains spans the huge space across The Pointe at Palm Jumeirah-Dubai's boulevard. The fountain comprises two ginormous floating platforms, covering 14,000 square meters of sea water. These platforms tower over the surroundings, at a height of 105 meters. From a distance, you can see the Pointe Fountain's 3,000 LEDs light up Dubai's sky. Each choreographed show lasts for 3 full minutes, and there's a show every half hour, from sunset till midnight.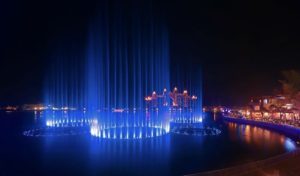 3. Pitch an Overnight Camp At Laguna Waterpark!
Laguna Waterpark's spanking new overnight camp is one of the newest and coolest things to do in Dubai. Open every Thursday and Friday, from 5.30pm till morning, Laguna Waterpark provides all the camping amenities you need. Pop your tent and enjoy the surf pool, the deadly slides and the other mind-blowing rides. At 10 P.M., enjoy a fabulous and unlimited barbecue until 10pm. Sit around the campfire, roast marshmallows, sing old songs, play a board game, or Truth or Dare. In the morning, you get a complimentary breakfast before you get back to the waterpark. The overnight camping offer includes unlimited drinks and food during the day.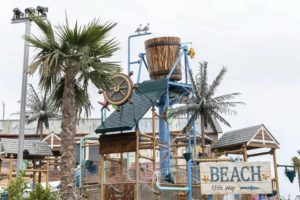 4. At the Top – Burj Khalifa
Record breaker of record breakers, the Burj Khalifa is still the world's tallest building. It's modeled after a flower, and like a flower, it gently curves, albeit in angles, with the tip piercing the clouds.  At The Top Burj Khalifa is the observation deck on the 125th floor, which offers stunning and dramatic views of the incredible city, the deserts and the sea beyond. Take in the Dubai Fountain show, and use the deck's telescopes to get a keener eyeful of specific landmarks.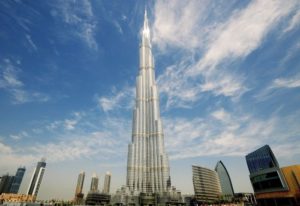 5. Hop On Hop Off Big Bus Dubai Sightseeing Tour
Sheikh Zayed Road is the city's main highway, and most prominent attractions are located alongside it. There are several Big Bus routes – you can take the one that takes you to city's souks, old Dubai, Dubai Canal and other offbeat places. Or you can explore iconic landmarks such as the Dubai Fountains, Burj Khalifa and others. Hop off the bus whenever you choose, explore select attractions and hop back on to the next bus in the same line. Armed with an air-conditioned, plush cabin and wide-windowed open-top seating, with 35 stops and 12-language commentary, the Hop-On-Hop-Off Big Bus tour is not to be missed.
6. Dhow Cruise
A Dhow cruise is one of the top Dubai things to do. The dhow is a beautifully renovated old trading vessel, been in use for ages in the Middle East. With ceiling to floor surrounding glass windows, AC cabins, luxurious insides and fabulous BBQ dinner on board, the dhow cruise is something else. Watch the lights of Dubai from the water, and get up close to the Palm Islands, the Burj al Arab, Atlantis The Palm, Jumeirah Beach Hotel, Dubai Marina, JBR and Bluewater Island. The dhow is a sedate vessel – it does not over speed. There'll be plenty of time to take detailed videos of the views. The food, the ambience and the cultural entertainment – belly dancing, tanura and fire dancing and henna tattooing – they'll all blow your mind.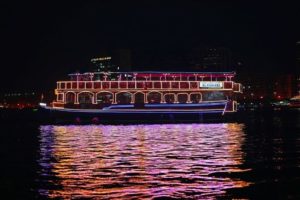 7. Green Planet
Green Planet is a tropical rainforest, built in the middle of the steaming desert if you'll believe it!  The rainforest is situated inside a great dome, where the required tropical climate is maintained.  Once you get over the shock that you're still in Dubai, you'll have time to gawp at the incredible tropical flora and fauna in this vertical tropical rainforest. Watch the rainforest animals – giant sloths, monkeys, reptiles and many others cavort about, enjoying the damp atmosphere. Your kids will simply love to learn about their natural environment at Green Planet.
8. Motiongate Dubai
If you have kids along, take them to Motiongate Dubai, which combines three of Hollywood's most famous studios – Dreamworks, Lionsgate, and Columbia Pictures. All your favorite movie characters and cartoon stories come to life here. Learn how to film a scene in real life movie sets, and the secrets of a production studio. Enjoy various rides based on actual action heroes – the Ghostbusters battle, Green Hornet ride and others. There's an interactive Smurfs village as well, along with Shrek's fairy tale journey reenacted. There's also a live action stage show based on movies such as Step Up, The Hunger Games and others. Motiongate Dubai is part of the Dubai Parks and Resorts theme park, which also comprises Legoland Dubai, Bollywood Parks and Legoland Waterpark.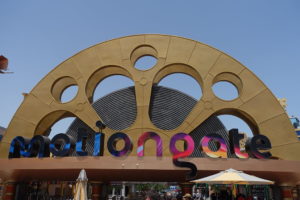 9. Aventura Park – Want to Become Tarzan?
A thrilling treetop obstacle course, Aventura Parks is just the place to take your active kids. You and your kids can become Tarzans and Janes, swinging from tree to tree, facing 80 challenging obstacles along 24 ziplines in the illuminated circuit. From 5pm until midnight, you can escape into the world of tree swingers. This attraction is open from 15 May to 30 September. Take your kids to the Aventura summer camp where they can enjoy animal encounters, learn how to take care of animals, and learn new crafts and arts related to nature.
10. Dubai Desert Safari
A desert safari is simply one of the best things to do in Dubai. The mystical desert will pull at your heart strings and you'll want to just stay there forever. Daytime safaris include adventure sports such as sand boarding, ATV riding, dune bashing and others. Rolling over the beautiful dunes in a sweet Hummer H2 or Land Cruiser is just the ticket to get your adrenaline juicing. Evening and overnight desert safaris include a fabulous BBQ dinner, in-tent cultural entertainment, and sunset photography. Camping out on the sands is something you don't want to miss.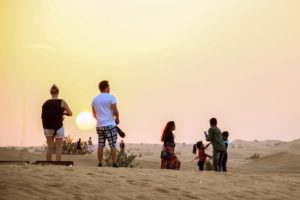 Dubai is known for its shopping, so a visit to Mercato Mall, Dubai Mall and Emirates Mall is a must. If you are travelling with kids, you can visit other fun attractions such as KidZania. Also, I would recommend spending some time exploring Old Dubai, with its winding alleyways and ancient buildings and the fantastic spice and gold souqs.
Hope this post on best things to do in Dubai helps you in planning your first trip to Dubai. Do check out Dubai Wikia for a comprehensive travel guide to Dubai.
Pin For Later