Vegan skincare products are made of 100% plant-based ingredients and do not contain any animal products or byproducts like honey, beeswax, bone powder, etc. Vegan products are all cruelty-free i.e. they are not tested on animals, but the reverse may not always true. 
Irrespective of whether you are a vegan or not, these products are amazing for everyone. I have personally used all of these and have got better results (some are good and some are a complete Must-Have) compared to their mainstream counterparts. The range of vegan skincare products is expanding every year and by choosing these products, you are not only doing good for your own skin but also causing less suffering to the animals and the planet, so it's a win-win for all.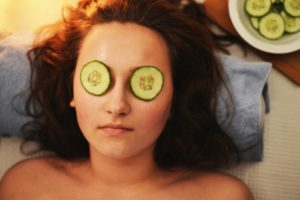 Here's my list of 20 vegan skincare products you must try in 2021. I have categorized these products as – Cleansers, Toner, Moisturizer, Sunscreen and Face Oils.
Vegan Cleansers & Face Wash
#1 Fleur & Bee Face Cleanser  
Fleur & Bee offers natural skincare products that are clean, non-toxic, vegan and cruelty-free. Their face cleanser is my go-to product because it is a perfect balance of all things good and is quite gentle on your skin. 
#2 ACURE Soothing Cleansing Cream 
100% vegan product with a soothing blend of organic argan oil, peony extract and sunflower amino acids. Only a small amount of this is required as it forms a foamy lather very quickly and is perfect if you don't want dry skin after application. 
#3 Lily Sado Tea Face Cleanser and Face Wash 
Very gentle face wash that you can use daily. In addition to being 100% vegan, it contains Green Tea Matcha (that has high amounts of antioxidants) and Vitamin C. This combination gets rid of free radicals and daily stressors while boosting collagen to plump and firm skin.
#4 Pacifica Beauty Deep Cleansing Face Wash (Kale Detox)
Pacifica is a company that is committed to using natural ingredients that are always clean, vegan and cruelty-free. It easily foams up and doesn't need to use too much of it. The smell of the product is amazing like coconuts and my face feels very refreshed after usage. 
Vegan Toners
#5 Bliss Watermelon Toner 
This toner contains watermelon extract that helps infusing vitamins into your skin and keeps your complexion clear. It also reduces visibility of large pores on your face. I absolutely love this product and love the fragrance of watermelon. It has also helped me get my acne under control.
#6 Biovaj Purifying Toner 
This one really helps soothe your skin and helps in maintaining pH balance. The natural smell of the toner really helps you relax your mind. If you have oily skin like me this toner will help in controlling excess oil and removing residual make-up with your skin feeling really fresh and hydrated.
#7 Youth to People Kombucha Facial Toner 
This facial toner consists of kombucha black tea and tree bark work that act as probiotics to enhance your skin. Ingredients like lemon water extract help to remove pollutants from your skin. If you use this product consistently (at least a month) you will be amazed with the results. It helps in slowing the aging process and leaves you with healthy looking skin. The product is quite strong though and I would recommend applying it in small quantities initially so that your skin can get used to it.
Vegan Moisturizers
#8 InstaNatural Vitamin C Moisturizer 
Vitamin C helps in the anti-aging process by reducing the appearance of wrinkles, fine lines and dark spots. InstaNatural moisturizer gives a healthy amount of antioxidants benefits to all skin types. The formula is very light-weight and even if you apply it in small amounts, you will immediately feel that your skin looks brighter, feels healthier and glowing. 
#9 Mad Hippie Face Cream
Mad Hippie products are made of nature's best antioxidants that help in anti-aging. It one of the few face creams that does not feel greasy after application. Works best for sensitive skin and can be applied under foundation. I was pleasantly surprised with how soft my skin felt at the end of the day when I washed off my face. This is a must-have for those with oily and sensitive skin. 
#10 Hempz Herbal Body Moisturizer Pomegranate 
Pomegranate extract is a great source of antioxidants that helps you get more radiant skin. The other ingredients like Shea Butter and natural extracts help soothe and condition your skin. This moisturizer is great for daily use as the formula is very light. The smell is a mix of rose, pomegranate and citrus and is very refreshing. 
Vegan Sunscreens
#11 Sun Bum Original SPF 50 Sunscreen Face Lotion 
I love the Sun Bum range. The way they portray themselves as simple people who live on the beach and understand their customers seems utter marketing genius. The products back their claims up as well. This sunscreen lotion is a life-saver for all skin types. It is a oil-free, water-resistant and reef friendly SPF-50 face lotion. You can use this on your face without fear of breakouts or white cast and it will actually hydrate your skin a little. It is really worth the price!
#12 Thrive Natural Moisturizing Mineral Face Sunscreen  
The special ingredient in this sunscreen is Non-nano zinc oxide that is a much safer and healthier alternative to chemicals. It provides a physical barrier to the sun. Absorption is very quick and does not give a greasy feel on the skin. Great product with environment friendly ingredients. This is especially useful for use at the beach as you can go into the ocean 4-5 times before you feel the need to reapply. 
#13 Australian Gold Plant Based SPF 50 Face Lotion 
I have used this sunscreen only a few times but I really liked the results. It is made using Aloe Vera and coconut oil that your skin will absolutely love. Very effective to protect you from the sun without much re-application needed during the day.
#14 ACURE Radically Rejuvenating SPF 30 Day Cream
The whole Acure line is amazing – the cleanser, daytime cream, night oil and the night cream. Then I tried this sunscreen and it did not disappoint. It is not as strong as the others mentioned above but it does get its job done on medium sunny days without any white cast and moisturizing your skin. It contains turmeric, ferulic acid and Vitamin C that helps nourish the skin in addition to protecting from the sun.
Vegan Face Oil
#15 THENA Organic Facial Oil 
This facial oil gives the perfect combination of restoring and keeping the skin hydrated with key nutrients and also helps in warding off signs of aging like fine lines and wrinkles. The key ingredients include organic jojoba oil, bergamot essential oil, aloe vera, rosehip oil and key vitamins E & C. Within one use I found this oil to be better than what I have used in the past as it helped even out and moisturize my skin without feeling greasy. 
#16 Drunk Elephant Virgin Marula Luxury Facial Oil 
The luxury oil consists of Virgin Marula oil from the pip of the Murula fruit which reduces fine lines, wrinkles, redness and improves elasticity of your skin. The oil is high in antioxidants and rich in omegas 6 & 9. This helps in moisturizing and rejuvenating your skin. The oil did not feel greasy and disappeared into my skin within 20-30 minutes of applying. My skin felt softer, younger and I could see my wrinkles become lighter within 2-3 weeks of use. 
#17 Pure Body Naturals Marula Facial Oil  
Marula is a light-weight and non-greasy oil. Applying this before bedtime and in the morning helps with reducing visibility of wrinkles and your make-up also looks better during the day. It provides immediate, long lasting hydration of dry skin and improve elasticity. 
Vegan Face Mask
#18 Superfood Marine Clay Mask
I mention this again but I have really sensitive skin and I find it hard to find a face mask that suits me. This product was very mild on my skin and I felt no irritation on my skin during/after usage. The results are amazing. I used it for a couple of months and it really helped reduce my acne and skin breakouts. This dead sea mud mask contains seven natural herbs including Aloe Vera and Avocado that help retain the moisture of your skin. Every time you use this product it will leave you feeling refreshed and with better looking skin. 
#19 Bella and Bear – Tropics Face Mask 
This face mask consists of tropical fruits Pineapple and Mango that help tighten pores, brighten complexion and give you a refreshing feeling. It also contains algae that are filled with nutrients that help feed your face with minerals and antioxidants. Even after first use this mask made my skin feel smooth and healthy. It is really easy to apply owing to this smooth texture and feels really nice when it dries up. 
#20 Bliss – What a Melon – Overnight Facial Mask  
I normally don't like overnight masks but this product really made me change my mind. The mask smells more like apples than watermelon but it has a really cooling and soothing effect. It feels very comfortable to put on and does not feel cumbersome whilst keeping it on overnight. The Bliss What a Melon mask helps remove dead cells and toxins leaving your face refreshed and smooth. It is great to apply after a long stressful day. 
These are 20 amazing clean, cruelty free and best vegan skincare products in the US that I have personally tried and have seen great results with. So why go for animal based products at all when there are so many amazing vegan and cruelty free products available for your daily skin care routine?
Obviously, no skincare product can replace the benefits of good nutrition and exercise, so please do not think of these products as a one stop solution for healthy skin. Eat well, drink more water and use fewer but quality skin care products which suit your skin the most.
Also Read : Best Vegan Products in India To Try In 2021