Hampi -the magical land of history, legends and natural beauty, is a UNESCO world heritage site and a backpacker's paradise. It is not the usual mountain or beach vacay destination, yet it left me awestruck by its laid back serenity. In this post, I'll take you through this ancient town and share my Hampi weekend itinerary.
HAMPI VIBES
A two day trip to Hampi took me back in time, to the era of Vijaynagar kingdom. Seemed as if the beautiful ruins of temples, amidst the boulder strewn landscape were still highlighting the glory and prosperity of the powerful empire.
The bright green paddy fields, at the same time,  made it more lively and beautiful for the new gen hippies and backpackers.
The Tungabhadra River
Much like other ancient kingdoms, which proliferate beside a major river, Hampi is separated into two parts by the Tungabhadra river. One part, has the ancient temples while, the other part (also known as hippie island) is more laid back and is home to backpackers from across the globe. Fishermen fishing on their coracle and shepherds grazing their cattle near the river was a common site.
The river can be crossed by motor boats (ferry) and coracle boats, running frequently between the shores. The usual rates for a ferry ride is Rs 10 per head (seating almost 10-15 people per boat), but the rates were increased to Rs 50 as we had visited during long weekend. The price seemed unreasonable considering the distance that would not be more than a 100 meter from the ghat. I felt I could have crossed it on my own, hopping from one boulder to another instead of taking the boat as the price increase was nothing but exploitation of tourists visiting during the long weekend.
Temples in Hampi
Virupaksha– the main temple is the only functional temple in Hampi as the rest were all destroyed by invaders. The Hampi bazar, near the main temple is super cool and buzzing with colorful, hippie clothes. I ended up spending quite a lot on these comfy hip clothes- be it my red 'tandava' t-shirt or them white elephant print pyajamas.  Harem pants with traditional Indian patterns were the highlights of this bazaar.
The main tourist attraction- Vittala temple, is an architectural marvel and houses the famous stone chariot which now features in the 50 rupees Indian currency. The temple is also famous for its reverberating pillars (each pillar gives a different musical note) however, tourists have been banned to play them to avoid any sort of damage.
While bicycles can be hired to go from one temple to another, walking past through the landscape is fun & adventurous (tiring as well) in itself. I had walked for a good 20- 30 minutes from Virupaksha temple to Vittala temple and further 15 minutes to Achutaraya temple to watch the magnificent sunset.
Another great spot to watch the sunset is Matanga hills which is just 1 kms away from Hampi bazaar area.
Hippie Island
The other side of the river, commonly referred to as Hippie Island, is home to backpackers. Many foreigners visit and stay in this place owing to its stunning landscape and chill vibes. Getting around in Hippie island is easier as one can hire a scooty and wander infinitely across deserted roads. I wandered across the Hampi lake, which is beautifully built and is famous for coracle boating.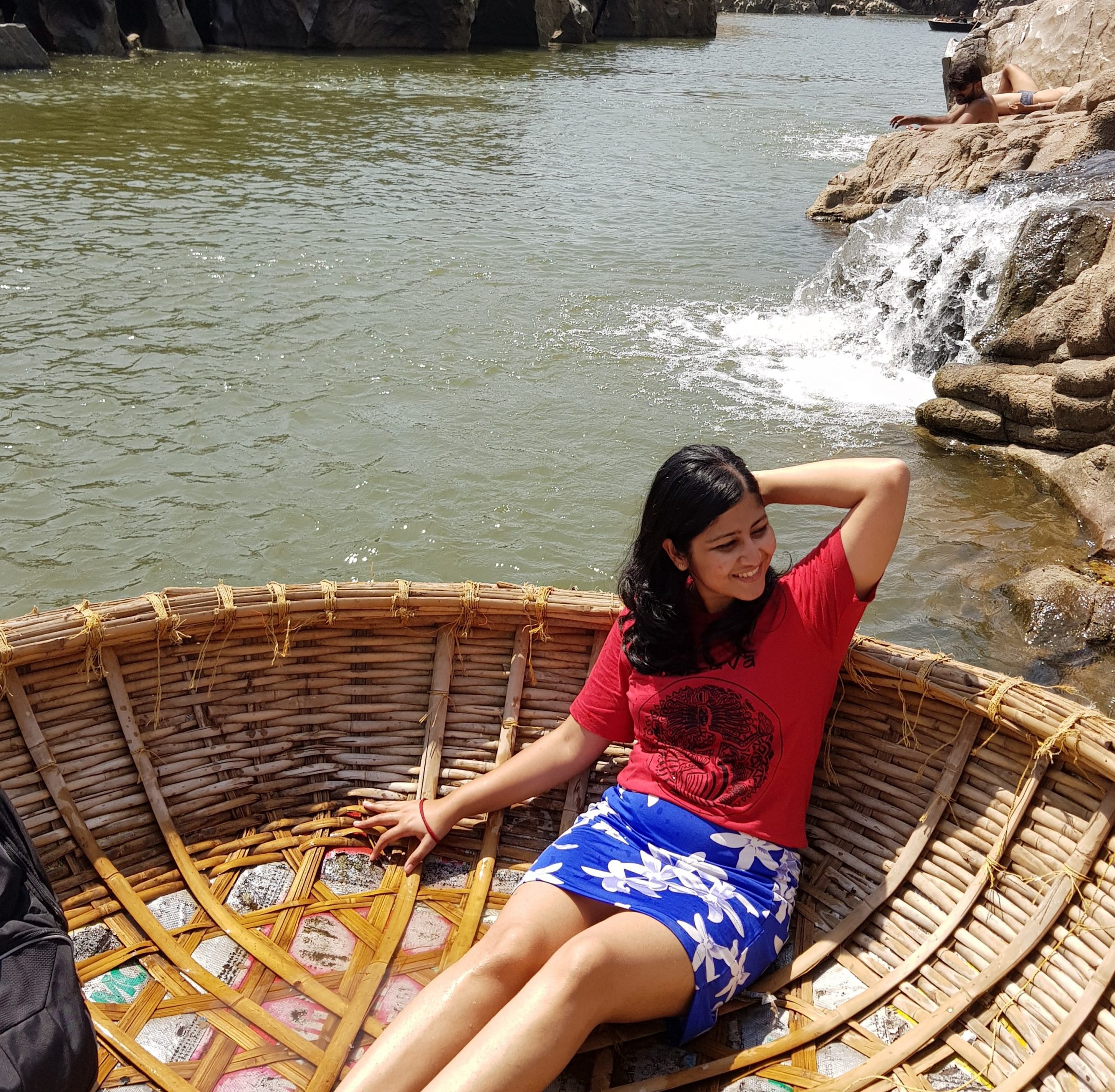 There are only a handful of things to see in Hippie island and is best for chilling and soaking in good vibes. During the day, the hippie island was quite and sleepy. There were a few cafes but I feel those near Hampi bazar were more lively and appealing. Maybe hippie island lights up during the night and sleeps during the day and I might have to visit Hampi again to withness the nightlife of Hippie island.
Also check out: Guide for backpacking India on a budget
Another common site- Monkeys
Cafes in Hampi
There is no dearth of cafes in Hampi. We found the best one to relax and retire near the Hampi bazar. We had spent 6 hours straight in Ganesh chillout cafe and had some amazing cold coffee, orange juice, sandwiches and pizzas. The cafe culture is pretty strong in Hampi, where they lay out cozy mattresses for the guests to eat, sleep, (well..) repeat 😉
How to reach Hampi
Hampi is slightly hard to reach from other parts of India. Nearest railway station is Hospet from where there are multiple buses to reach Hampi. There are overnight buses from Bangalore and trains from Goa which have a drop at Hospet.
Other info:
Mobile connectivity is weak in Hampi, I found good mobile connectivity only near the Hampi bazar.
Locals were not very friendly. We went during long weekend and prices of all basic necessities had been doubled.
Bicycles are the best way to get around in the temples side of Hampi. (There are very few licensed two-wheeler and autowalas will charge a bomb)
Scooty and mopets are easily available across the river in Hippie island
Also Read: 8 Offbeat things to do in Goa
Pin for later: