This post contains affiliate links. If you buy something through one of these links, you won't pay a penny more, but I'll get a small commission that will help support this website and keep my content free. Thanks!
In India, the demand for vegan and cruelty free skincare is on the rise. Just like the rest of the world, consumers in India are becoming conscious about what goes into their products; demanding clean ingredients which do not harm animals in any way possible. This shift in collective consciousness is making a headway in the beauty space, thanks to brands which are bringing clean and conscious beauty into the limelight. In this post, I will share best vegan skincare products in India that are derived from natural and plant based ingredients.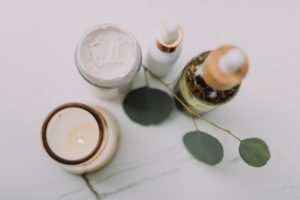 How are Vegan skincare products different?
Vegan skincare products are made of 100% plant-based ingredients and do not contain any animal products or byproducts like honey, beeswax, bone powder, etc. Vegan products are all cruelty-free i.e. they are not tested on animals, but the reverse is not always true. 
In India, a number of new and upcoming skincare brands are pledging to provide consciously sourced beauty products. Owing to the growing demand, even large corporations are innovating to bring their own vegan skincare products in India.
Irrespective of whether you are a vegan or not, these products are amazing for everyone. I have personally used all of these and have got better results (some are good and some are a complete Must-Have) compared to their mainstream counterparts. The range of vegan skincare products in India is expanding every year and by choosing these products, you are not only doing good for your own skin but also causing less suffering to the animals and the planet, so it's a win-win for all.
I have categorized these products as per usage, namely- Cleansers, Toner, Moisturizer, Sunscreen and Face Oils.
Cleanser & Face wash
1. Plum Green Pore Cleansing Face Wash
Plum is my go-to vegan skincare brand; it is affordable, uses clean ingredients and is vegan and cruelty free. This is one of their best selling products and is extremely effective in cleaning up excess oil and exfoliating dead skin. Pick this up blindly, especially if you have oily & acne prone skin.

2. Body Shop Carrot Cleanser
Body Shop is a global brand, well known for all the natural ingredients used in their amazing products. It doesn't test on animals and most of their products are vegan. These two are my favourite vegan cleansers and are suitable for all skin types. Slightly high priced, but totally worth it.
3. COSRX Low pH Good Morning Gel Cleanser
A mildly acidic cleanser formulated with botanical skin-purifying ingredients, it is gentle on the skin and does not strip off natural oils, leaving the skin hydrated for long. It is the perfect morning cleanser, especially for those with sensitive and dry skin.
4. Biotique Bio Morning Nectar Visibly Flawless Face Wash
The most affordable and an all-natural product that cleanses well and keeps the skin smooth. It doesn't rip the skin off the moisture so it is mild too. 

5. Kama Ayurveda Rose Jasmine Face Cleanser
This is a very gentle cleanser and is ideal for dry and dehydrated skin type. It has a very relaxing rose and jasmine aroma which has a calming effect on the skin. A small quantity is enough for each use, so the cleanser lasts long. 
Toners
6. Plum Green Alcohol Toner
A perfect toner for oily and sensitive skin type as it is alcohol free. It contains Glycolic acid which helps in minimizing pores and clear off dead skin. An effective toner for a great price, I highly recommend it.
7. Body Shop Facial Toner
The Tea tree range is Body Shop's best selling range right now and definitely worth a try. If your skin is somewhat allergic to Tea tree you can try the seaweed toner as well. It works perfectly for all skin types.

8. Mamaearth Rose Water Face Toner
Another amazing toner by Mamaearth. A great budget option, it has a refreshing rose fragrance and is extremely gentle on the skin. Suitable for all skin types.

9. Dr. Sheth's Gulab Glycolic Toner
A great toner which is made with all natural ingredients. It has a unique combination of Glycolic acid and Niacinamide which is effective in minimizing acne spots and pigmentation. 
Moisturizers
10. The Body Shop Carrot Cream Moisturizer
Another great product by Body Shop. It's a lightweight vegan moisturizer which gives a youthful glow, all thanks to its organic carrots formulation. Use this product at night and it will give you a glowing skin in the morning. The carrot range is amazing and you can purchase the cleanser and moisturizer combo at a discount from Amazon.

11. Plum Green Mattifying Moisturizer
I have been using this moisturizer for quite some time and I must say it is as good as any other expensive one. It comes in a plastic pump bottle which makes it easy to use especially when you're on the go. It's perfect for oily to normal skin type but if you have dry skin you might want to try the Aloe care moisturizer by Plum instead.
12. Re'equil Ceramide & Hyaluronic Acid Moisturizer
Re'equil is a fairly new Indian brand which believes in honest and effective dermatologically tested products. Their ceramide and Hyaluronic Acid Moisturizer is a boon for people with dry skin. It gives an instant glow without making you look greasy. Also, Reéquil is much more affordable than other brands using the same ingredients and maybe that's why their products rank high on Amazon.
Sunscreen
13. Re'equil Oxybenzone and OMC Free Sunscreen
Another great product by Re'equil. This is perfect for dry to normal skin types but might not suit those with oily skin. I do have oily skin and it turned out fine for me but I have read reviews about people not recommending it for oily skin. So you might have to take the plunge and give it a try (like I did). 
14. Forest Essentials Tender Coconut Sunscreen
This is an ayurvedic sunscreen since Forest essentials is a luxury ayurveda brand and most of their products are quite premium and expensive. It has a strong ayurvedic floral fragrance initially but it fades away within a few minutes. It works well for dry and normal skin and is very light and hydrating.
15. Lotus Organics Sunscreen
Lotus herbal sunscreen is tinted and has an ultra matte finish. It doesn't feel oily and gives a smooth finish to the skin. Also, this product is 99% natural which makes it safe to use on your face. 

Face oil
16. Disguise Rainbow Glow Face Oil
Disguise is a 100% Vegan and cruelty-free Indian brand which is extremely popular when it comes to their vegan makeup & cosmetics range. In case of skincare, I really love their Rainbow glow face oil which is blend of 7 amazing plant oils which reduce pigmentation and help fight signs of aging and sun damage.
17. Kama Ayurveda Kumkumadi Oil
Kama is a premium ayurvedic beauty brand and this is one of their products which justifies the high price. Kumkumadi oil is a blend of herbal oils and is prescribed for pigmented, damaged and aging skin. It works best when used at night, you can apply directly on your face or mix two drops with your night cream. Not only does it lighten dark spots and acne scars, it helps in getting a glowing complexion and an even skin tone. 
18. Plum Grape Seed & Sea Buckthorn Glow-Restore Face Oil
This serum is a must-have for those who have dry skin. Without the greasiness one would expect from an "oil", it combats dryness, and restores the natural glow of the skin. It is best used at night to get a healthy and natural glow in the morning. Highly recommended for dry to normal skin type – go for it without any hesitation.
Face Mask
19.
Dr. Sheth's Haldi & Hyaluronic Face Mask
Haldi (Turmeric) is a superfood which is amazing for healthy and glowing skin and Dr. Sheth's Face mask perfectly uses the benefits of Turmeric in this face mask. The anti-inflammatory properties of Haldi fights dullness and Halyronic acid creates a plumping effect. Apply it overnight to get the maximum benefits of this amazing face mask.
20. The Body Shop Himalayan Charcoal Mask
A quality skincare product, the Himalayan charcoal face mask is an amazing way to cleanse and exfoliate the face. It's a blessing for those with clogged pores and blackheads. Bamboo charcoal is known to draw out impurities from the skin and green tea exfoliates the skin. This mask gives an ultimate clean and smooth skin so if you can afford it, you must include it in your skincare.
These are 20 amazing clean, cruelty free and best vegan skincare products in India that I have tried personally and have seen great results with. So why go for animal based products at all when there are so many vegan and cruelty free products available for your daily skin care routine?
Obviously no skincare product can replace the benefits of good nutrition and exercise, so please do not think of these products as a one stop solution for healthy skin. Eat well, drink more water and use fewer but quality skin care products which suit your skin the most.