Road Trips sure are fun and flexible ways to travel and discover the landscapes of the country . Driving out on the open road with your favorite music on, snacking, and playing games – the journey does become more memorable than the destination itself. But sometimes things can go really wrong if you don't know what you're in for. I have been lucky enough to go road tripping in multiple countries but I would say India is one of the countries where you really need your ducks in a row before heading out the door. So in this post, I'll be sharing 16 driving tips for Indian roads for your next road trip.
1. Benchmark Road Conditions on Google Maps
Road conditions can vary in India from fabulous freeways to poorly constructed pot-holed pathways. But it is difficult to figure out the road condition if you are going to a place you have never driven before. One way to know in advance is to ask for advice from a friend who has either visited or is familiar to the area but that might not always be an option.
The other way that I have found helpful in these situations is using Google Maps. Although the app cannot tell you the road conditions, you can figure out by simply seeing what the average speed is on the road you are going to take. For example, going from Bikaner to Jaisalmer in Rajasthan is a distance of 330kms and according to Google Maps it takes 4 hr 40 mins to do so which is an average speed of approximately 70km/h. If you're going from Delhi to Rishikesh, the distance is 210 km but its takes 5 hours to get there – an average speed of 42km/h. (These calculations are assuming there is are no traffic jams on the road you are travelling, do check for traffic jams/blockages before heading out)
I would say the benchmark for India is 60km/h. If you see that the average speed is above 60, chances are you are going on very well-constructed highways. Anything below 60 but above 40, you will see patches of good but more patches of either under-construction roads or narrow one-lane highways with trucks blocking your way. Anything below 40, you are probably in for poor road conditions or patches of hilly roads on your road trip.
2. Use Offline Maps
I think most of us use Google Maps to map out routes before we head out for our road trips and India is no exception to that. But I also recommend saving the route on offline maps in case you reach an area where there is no cell reception.
3. Renting self-drive vehicles
In case you don't have your own car, don't worry – there are many companies that offer self-drive vehicles that have decent coverage across many cities across India. Here are some of the companies which I have used that offer good cars and prices:
You can also download their apps from App store or Play store. I recommend using the fuel inclusive option as it works out to be cheaper for long trips.
Note: There are no such app-based self-drive cars service in Goa and you will need to rent it locally itself.
Here's my check-list for things you need to check while renting self-drive cars:
Take a video of the entire car for your reference. This will help when you are returning the car and the agency claims that there are new bumps/scratches on the car

Check all the tyres before you drive off with the car. In case of any punctures, do not accept the car and ask for another one. You do not want to be looking for a garage yourself later and it will be difficult to claim the cost later with the agency

Working condition of stereo and speakers

Check all the mirrors (Side rear view, rear view)

Spare tyre and tools

Important documentation (All India Permit, insurance, PUC certificate, RC)

Check with the agency if you need any additional documentation for your destination – in some cases you need additional permission to take the car across state borders (For example, you need a permission to go from Tamil Nadu intro Puducherry union territory)
4. Create a Budget Sheet and stick to it
If you are a numbers nerd like me, you will really like this one. Before your road trip, create a simple excel with the proposed costs for your road trip including (but not limited to):
Lodging

Fuel

Tolls (Approximate)

Allocation for Shopping (include cost of souvenirs you want to bring back)

Allocation for Food/Drinks

Activity Costs (For example – river rafting, trekking, desert safari, etc)

Any other planned expenditure
There will always be some spillover but try to stick to the budget sheet as much as possible which will enable you to plan more trips in the year with the money you save.
5. Packing for your Road Trip – Some Helpful Tips
Here are some essentials you need to pack for your road trip (Seriously, don't miss these) – 
Water Bottles

Pack at least one 1 Litre bottle per person from your house and avoid buying water outside. This will help save on using unnecessary plastic. You can re-fill at the hotel/homestay where you will be staying.

Tea/Coffee

If you can, try to carry a thermos full of hot tea/coffee for the trip (especially if you start really early in the morning) to avoid having outside with questionable milk options being used. Having said that, if you are not able to then you can have tea/coffee at chain store (like Cafe coffee day, Barista, Chaayos, etc) or a good-looking restaurant/Dhaba (use your best judgment here).

Dry Snacks

Pack enough dry snacks for the trip. As a rule of thumb, 1 packet of chips and 1 packet of biscuits (sweet or savory) per person on the trip. People can get hungry at odd times and you will lose a lot of time if you keep stopping every hour to eat.

Meals

This one is optional and depends on the route you are travelling (will cover this point again post.. Keeping reading). It is always a good idea to pack 1 or 2 meal packs for the people on the road trip. Let's say you start really early in the morning and have a long 10 hour drive for the day. Pack yourself breakfast and lunch in order to have in the car. This will help you in case you find yourself on a road where there are not many restaurants/dhabas around.

Aux Cable

This is in case you do not have bluetooth in your car, then carry an audio auxiliary cable to play your favorite tunes on the car stereo instead of struggling on the on & off radio signals.

Chewing Gum

This is a neat trick I picked up when I was on a road trip in Odisha two years back. The roads were great and fairly straight and we had been driving for three hours. I felt tired and sleepy but we could not stop as we were already late. My friend offered me a stick of chewing gum and that really helped me to stay awake. Moving the mouth keeps you awake and can be great in those times when you're feeling exhausted.

Covid Essentials

Pack enough masks for the trip and sanitizers to keep you protected from infection.

Medicines

Don't forget to pack any medication that you might be taking along with you. Also pack medications for fever (paracetamol), stomach bugs, sore throat (lozenges), allergies, some band aids and any other stuff you may think would be useful for your trip.
6. Check restaurant availability along your driving route
I touched upon this before as well but it is important to plan your meals on days you will be driving for most of the time. Use the Search along route feature on Google Maps to look for places to eat on your way and plan your meal breaks in advance.
In case you find that there is nowhere to eat along your route or if you are not sure if the places will be good enough – pack your meals from where you are about to start. Either cook or get something packed from a restaurant nearby – preferably something that can be eaten on the go (like a sandwich, burger) to avoid stopping on the way.
7. Tips for driving on single lane highways
Around 76% of roads in India are either two-lane (single lane each side) or less than that. With so many cars on the road, how do you go about navigating through these roads?
The answer is not that simple. You need to have the skills to overtake cars in front of you to make sure you don't lose too much time on the road stuck behind a slow trucks (which happens more often that you think). There are many sorts of vehicles on Indian roads (bullock carts, tractors, bicycles, trucks, etc.) and can slow you down while you are trying to get to your destination.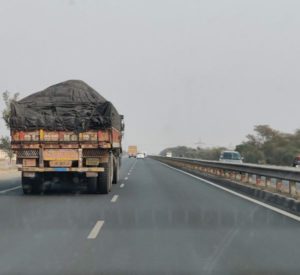 So here a few tips for you to overtake on two-lane highways – 
1. ONLY overtake on straight roads
It is already a difficult task overtaking on such narrow roads, do not compound it by overtaking while turning. It is most probably going to be difficult to predict if someone is coming from across the other lane (more difficult on blind turns) and this can result in you having to break hard and retreat or worse lead to an accident.
2. Make sure there is at least 6-7 car length distance between you and the oncoming car in the other lane
There needs to be enough space for you to overtake the car in front of you and also not to hinder the progress of the oncoming car. Many times, I have had to hit the breaks to accommodate an oncoming car which was trying to overtake the car in front of them. Do not be one of those people and make sure there is enough space to overtake without spoiling someone else's road trip.
3. Flash your headlights/Blow your Car Horn to make everyone aware of the overtake
It is important that the car in front of you and the oncoming car know that you are about to overtake so they are prepared for it in case they need to slow down or take evasive action (in case anything goes wrong). Hence it is always a good practice to either flash your headlights or if it is particularly sunny outside blow your car horn. Blowing your car horn in India is not considered abusive (unlike other countries) and so you can do that when you need to.
8. Fastag for Tolls
From 1st January 2021, the Indian government has mandated the use of Fastag while travelling on national highways across India for paying tolls. There is a significant penalty that you will need to pay if you use cash or any other mode other than Fastags.
So do make sure you have Fastag installed on the car you are driving and there is more than enough money charged on the Fastag to pay for tolls. In case of self-drive cars, please do check with the person at the agency you are taking the car from how much money is on the Fastag installed on the car to avoid unnecessary waiting at toll booths and penalties.
9. Animals on the Road. What to do?
Another very important tip for driving on Indian roads. If you're out on the local roads, or even on highways, you might encounter animals on the road. This can include (but not limited to) cows, herds of sheep, dogs and camels. My advice is two pronged here – 
If you are able to spot the animal on the road from a distance – slow down immediately. Even if they are on the side of the road and you think they won't enter – still slow down. Animals can be very unpredictable and India does not have proper barriers alongside the road to stop them. There are times that these animals are owned by the locals and you really DO NOT want to accidently hit them and then get into an argument with the locals.

 

When passing an animal on the road, always pass them from behind. If you are passing them from front, they might move forward and you might accidently hit them.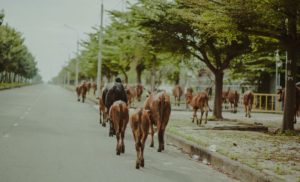 10. Always lookout for people driving on the wrong side of the road
Unfortunately in India, people do not have patience to follow basic traffic rules. This is universal and not only true for urban or rural India. Partially it is because the highways do not have proper barriers to restrict entry, some highways are still under-construction in some patches but mainly because the law is not enforced properly. So do not be surprised to find a truck or tractor coming towards you on the wrong side of the road. 
11. Speed Limits – How to handle them?
I think the previous point really ties up well with this one. When you know there could be vehicles coming on the wrong side and animals showing up on the road – it is not advisable to go too fast on Indian roads. No matter how empty they seem – it is always a risk.
I would recommend driving within the designated speed limits – which on most national/state highways is around 70-80 km/h. There are some highways that have speed limits of 100km/h but only reach that speed if you see that the highway is properly blocked off on the sides so that nobody can suddenly enter in front of you. 
There could be stretches of highways (especially on well-built highways) where you find yourself struggling to keep it at 70/80 and cars are overtaking you left, right and center. In such cases, please note the speed limit on the highway and drive +/- 10km/h of the same. In my experience, the traffic police are understanding enough and will not penalise you for being slightly above the speed limit (applicable on highways not within cities).
12. Do not get into a verbal spat with people on the road
Please do keep this tip in mind while driving on Indian roads. In any circumstance, please do not get into an argument with other drivers or people you find on the road. There have been instances (thankfully not with me) which have led to really bad consequences for people I have known personally and you really do not want to be involved. Even if you think you are right – arguing with a locals who can bring 10 other people to support them is never going to turn out well for you.
13. Washroom Issues
Unfortunately in India, not much focus is given on cleanliness of washrooms or even proper washroom construction by the sides of roads. This becomes a problem when you are on a long road trip and really need to attend to nature's calls.
You can probably find decent washrooms in restaurants/dhabas built alongside the road, but the cleanliness of these is always questionable. Then there is the question of which type of toilet you will find – western or Indian style and how comfortable you are using the Indian version. This problem is more of an issue for ladies. Some solutions that I have used in the past are the following products by Pee Safe.
14. Travelling to the Hills
Driving in hilly areas is a tricky proposition. Most hill station roads do not have proper barriers and are quite narrow. So if you can, please avoid driving in the hills – especially in the winter where icy roads can be an issue. I would recommend taking a taxi or there are places that also provide drivers for your owned cars as well.
In case you are intent on driving, please take advice of locals or your friends on the road conditions and be very careful while driving. 
15. Indian states with good road conditions
I have driven in many states across India and this is a list of states that generally have good national/state highway coverage and good road conditions – 
Rajasthan

Odisha

Maharashtra

Karnataka

Tamil Nadu

Punjab
Uttar Pradesh is another state which has good highways between the main cities of Lucknow, Agra, Kanpur and Varanasi but the other roads are still under construction.
16. Tips for Foreigners planning to drive on Indian roads
Although all the points are applicable to foreigners and Indians planning to take a road trip in India, there were some additional things that foreigners need to be mindful of :
Lane driving in India is non-existent

It can be a real shock to the system when you see it in India and you will need to be careful while driving.

Blowing your car horn is OK

in most countries blowing the car horn is equivalent to abusing the other driver but that is not the case in India. Hence do not be offended if someone does that to you and you can use it too while driving.

Prefer rental cars with drivers

It is not easy driving in India and I would recommend that  you rent cars that come with drivers who are more used to the unusual driving requirements here in India. You can always take the wheel for good stretches of road and give the driver a rest at times.

Have your routes completely mapped out on Google Maps

You might find it difficult to take directions from people on the road given the language barrier.
So there you have it, my 16 driving tips for Indian roads for your next road trip. Do let me know if you found these to be helpful or if you have any other tips that are not covered here.
Looking for Road Trip Ideas in India? Check out-
Rajasthan Road Trip from Delhi : Ultimate 10 Day Itinerary
18 Best Weekend Getaways From Mumbai : Best Road Trip Destinations