Do you suddenly find yourself craving junk food in the evening? Or maybe if you're up late – reaching for anything you can find in your fridge? 9 times out of 10 you will calm these cravings with something totally unhealthy and end up regretting it instantly.  I've been a victim of unhealthy munching myself, especially in the evening and sometimes late at night while working on my blog.  Despite focusing on healthy meals through the day, I ended up munching on fried snacks or chips, partly because I did not have any other readily available alternative.
In my quest for healthy evening snacks, I started purchasing energy/protein bars from the market. Although it was healthier than my regular snack choices, it was still processed and utterly expensive. My husband came to my rescue and asked- "Why don't we make these granola bars at home?". We then started experimenting with a few recipes and finally found the one which was nutritious, filling and very easy to make. Most of the other recipes we found online used expensive baking equipment, which we did not want to spend on, and neither did we have the space in our house.
So here is our version of Easy No-bake granola energy balls (not bars), which you can easily make at home for healthy munching.
Ingredients Required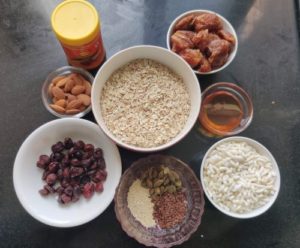 2 cups of rolled oats
1 cup of Rice puffs
8-10 seedless dates (1 cup full)
½ cup of almonds
1 cup of seed mixture (we use sesame, flax & pumpkin) – can be mixture of any seeds you like (3-4 types)
Dried cranberries- 1 cup
Peanut Butter- 1 Tablespoon
1 tablespoon of Organic honey
Salt (1 pinch)
Preparation of Ingredients
Light Roasting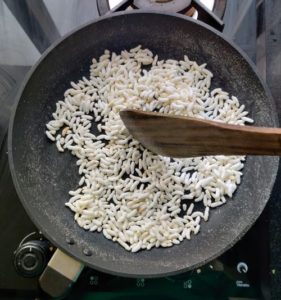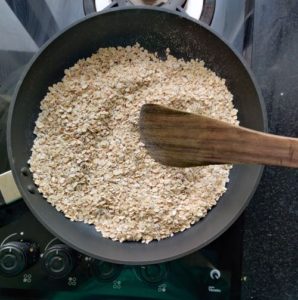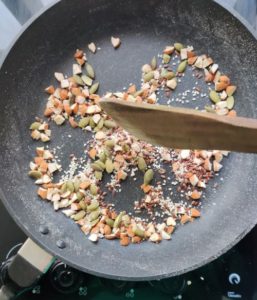 Use a flat-based pan and on low flame, roast the following ingredients (1 at a time). Keep in mind not to burn any of the ingredients. Only lightly roast for 1-2 minutes and keep stirring.

Rolled Oats
Rice Puffs
Almonds (after chopping into small pieces)
Seeds Mixture – only if using the non-roasted kind

Put all the above into one big bowl and mix together well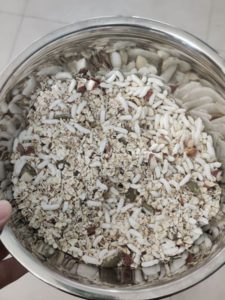 Preparing the Dates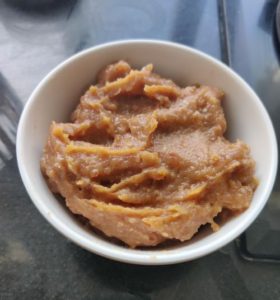 Take 8-10 seedless dates and put in blender/mixer-grinder
Add ½ cup of water
Start the blender/mixer-grinder and continue till all the dates have been blended and reach a thick consistency
If you are not able to blend dates properly, add another ½ cup of water and repeat
You should get a consistency like the one in the picture here
Take all of this out of the blender and keep aside for later
Preparing the Honey and Peanut Butter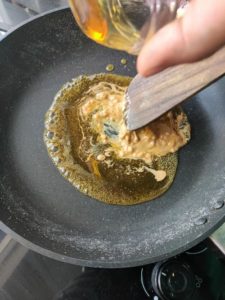 On the same pan used for roasting, put the honey and peanut butter on low flame
We do want to cook these ingredients but only melt them and mix them together
This should happen within a minute
Take this mixture and pour it onto the mixture of ingredients in the bowl you have used
Putting it all together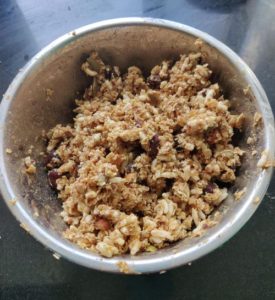 In the big bowl, add the cup of dried cranberries
Mix all the ingredients well together using a spoon
Add a pinch of salt
To this, add the blended dates
Now we need to mix all of this together. You won't be able to use a spoon as the dates are very sticky. Use your hands and mix all the ingredients well together. If the mixture is hot, wait for five minutes before doing this step
The Finish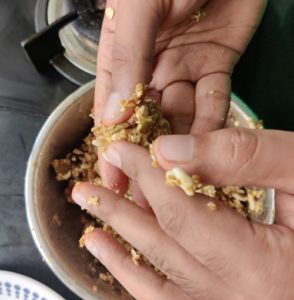 Using the mixture created, starting making the balls with your hands by taking small chunks
Make sure you do not overload any balls with too many cranberries, as it will become too sweet. Have 1-2 cranberries in each energy ball
Keep the balls aside on a large plate separate from each other so that they don't stick together
Once done with all of the mixture, place your creation in the fridge for the energy balls to solidify for 2-3 hours
Store in fridge and the energy balls should be good for 2 weeks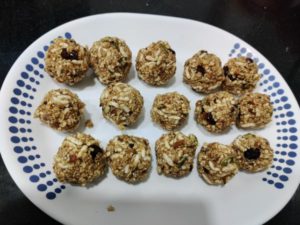 Hope you try this recipe and it solves the issue of unhealthy evening snacking for you. Let me know your experiences and if you have a craving-solving recipe of your own in the comments below.
If you liked this post and are looking to upgrade to a healthier lifestyle, you will definitely like – 6 Easy Ways to add Superfoods to your diet
You can also check out other home-made granola bars recipes by – Pick Up Limes, Aarti Madan or The Domestic Geek
Pin for later: