If you're bored of those fancy beach vacations and are in the mood to venture out into rugged nature, Iceland is the perfect destination for you. Lots of adventure, road trips and scenic landscapes make it nothing short of a paradise. ❤
If Iceland is on your bucket-list, here's the itinerary of my trip for the month of March this year.  If it is not, keep reading the Iceland 5 day winter itinerary. You might want to add it your bucket-list towards the end of this post. 😉
Time of travel
We had traveled in the month of March, which is the winter season in Iceland (Nov to March). This is the time when Iceland lives up to its name and you witness the milky white snow covered landscapes. If Northern lights is the reason you want to travel to Iceland, you got no other choice but to visit during the winters.
Now you might ask- how cold exactly is Iceland? Temperature wise- moderate, but the wind chill makes it freezing especially when you're out in the wilderness. While we were in Iceland in March, the temperature was in the range of -1°C to -4°C & compared to other Northern countries (like Russia & Canada), it is pretty decent. The wind however is pretty strong and for Indians like us who are not used to such a crazy wind game, it can be a real bone-chilling experience (literally).
Also Check Out: What to wear in Iceland in winters- Packing essentials
Reaching Iceland
There are no direct flights from India to Reykjavik (capital of Iceland). The best option is to travel to Amsterdam/Prague from India and then fly to Reykjavik when the flights are cheaper. We chose those particular dates when the flight rates were cheapest as transfers can break your budget if not done right.
We spent approx. $430 (Rs 32,000) per person on flights (one-way) from Delhi to Reykjavik on budget airlines and had booked about 4 months in advance. Now you might be wondering – Is Iceland expensive? Yes, travelling to Iceland can take a toll on your budget, so prior research and planning is the key if you don't want to burn a hole in your pocket.
Car Rental
Renting the car is the best way to explore Iceland because who in the world wouldn't want to drive live through a scenery like this.❤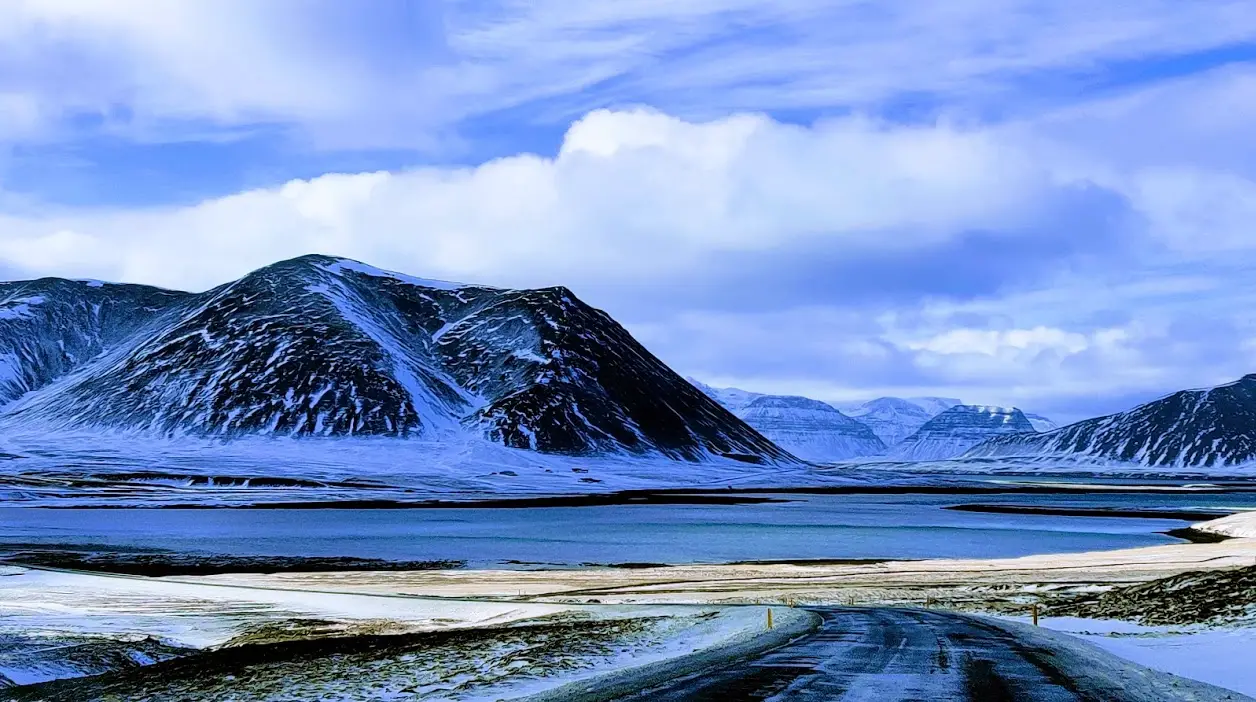 We rented a 4X4 Hyundai Tuscon from a local rental company – Lava. 4X4 drive is recommended especially for the icy roads during winter.
Car rental was approx. $47/day (Rs 3500/day) -Unlimited Kms + insurance. We drove for almost 1500 kms & the total fuel cost was $112 (Rs 8400).
Also Read: Tips for Driving in Iceland
Iceland 5 day itinerary
Out of the 7 days in Iceland, we kept two days for flight transfers & relaxation and 5 days for exploring this beautiful island.
[googlemaps https://www.google.com/maps/d/embed?mid=1p7dZ_sVX27fMgbxfqZtvoNfQw4edJJPZ&hl=en&w=640&h=380]
Day-1 Snæfellsnes peninsula
Reyjkavik –> Kirkjufell –> Budir –> Arnarstapi –> Reyjkavik
On day 1 we headed towards the Snæfellsnes peninsula in the north western part of Iceland which is a 2 hour drive from Reykjavik. This was our first day and the scenic drive to Snæfellsnes left us speechless, I mean just take a look at these pictures.
While we had planned for 4-5 spots in the Snæfellsnes peninsula, we could cover only 3 due to snow & road closures. Here are the three spots:-
Kirkjufell mountain: A touristy spot and famous for the GOT shooting of this otherwise isolated mountain. This is the "Arrowhead mountain" in season 7 episode 6 and apparently the most photographed mountain in Iceland as well.
Budir black church: This beautiful black church amidst the dramatic setting of white snow clad mountains & the ocean make it a great photogenic site.
Arnastapi: We visited the Gatklettur stone arch in Arnastapi, the wind is brutal and cold on this side of peninsula (definitely had the potential of blowing a tiny person like me off into the air) but the views are worth the struggle.
On our way back we encountered a blizzard and were scared to death as it was our first day on the roads. Eventually, we got used to the strong winds and snow hurling all over the place, for the rest of our trip.
Tip: The days are shorter during the winter but it's always wise to return home by sunset as the weather is highly unpredictable.
Day-2 Blue lagoon & Southern Iceland
Reyjkavik –> Blue Lagoon –> Seljalandfoss –> Kirkjubæjarklaustur 
We left from Reykjavik for Blue Lagoon which is a man-made geothermal pool with heated water coming in from the lava fields. The entry ticket costed us about $100 (Rs 7500) per person includes towels, free drink & the silica face mask. The hot water is super relaxing and the silica mask is considered great for the skin.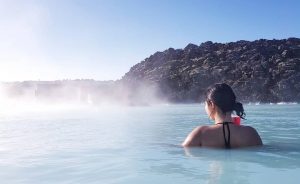 We then drove down to South Iceland to Kirkjubæjarklaustur (also known as Klauster) town where we had booked an Airbnb. Klauster is a 4 hour drive from Blue lagoon.
Tip: Accommodation outside Reykjavik is very limited and pretty expensive so make sure you book them as early as possible (preferably 3-4 months in advance).
On our way, we stopped at Seljalandsfoss waterfall when it started snowing, showing the true colors of this winter wonderland.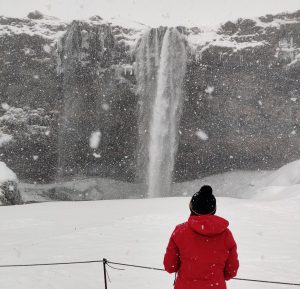 Day3- Glacier walk & Diamond beach
Kirkjubæjarklaustur –> Skaftafell (Glacier walk) –> Diamond beach –> Kirkjubæjarklaustur
While there are many adventure tours in Iceland, we went for a glacier walk with Troll Expeditions. We chose the morning slot and went straight to Skaftafell for our adventure. The walk was for about 3 hours on an outlet glacier called Falljokul, where the bright blue glacier stood out shining in the snowy landscape. We had an amazing guide and even saw a few natural ice-caves on our way.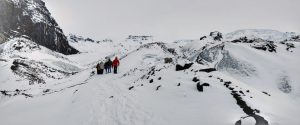 The unique glacier landscape has been featured in many Hollywood movies like Batman, GOT & Interstellar. If there is only one thing you must do in Iceland, it has to be a walk on the mighty glaciers. It was undoubtedly the best experience out of all the things we had planned in our Iceland 5 day itinerary. Cost was $127 (Rs 9500) per person.
We then drove to Diamond beach from Skaftafell and then back to our hotel in Klauster.
Day 4- Reynisfjara beach
Kirkjubæjarklaustur –> Fjaðrárgljúfur Canyon –> Reynisfjara–> Dyrholaey –> Skogafoss –> Reyjkavik 
We checked out of our Airbnb in Klauster and drove to Fjaðrárgljúfur Canyon and had a brief stop for about 20 minutes. We then headed to the famous Black sand beach- Reynisfjara. It is one of the busiest beaches in Iceland because it is so easily accessible and so popular. At times, the waves got pretty intense and we saw people running away, as the Sneaker waves marched towards the beach. Thankfully there were no causalities at the time, phew!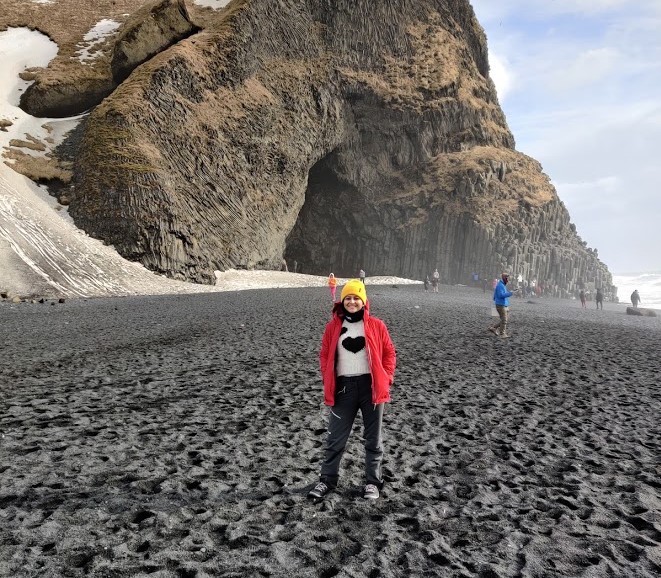 Next up was Dyrholaey, which is massive piece of land with arches and viewpoints &  has the best view of Reynisfjara beach.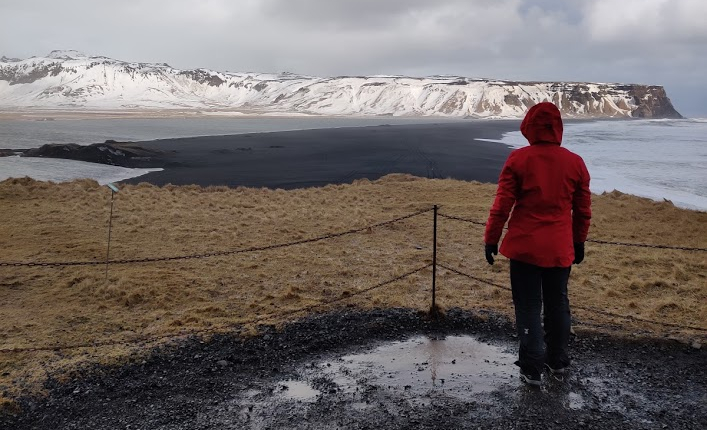 On our way we made another brief stop at Skogafoss waterfall and then checked in to an Airbnb at Reyjkavik.
Day 5- Explore Reykjavik
We had planned to visit the popular Golden circle tour but had to cancel due to the COVID-19 situation and decided to take a stroll on the streets of Reykjavik instead. You can read more about the Golden circle and its hidden gems here.
Reykjavik is a beautiful city and almost 60% of the Icelandic population lives here. We had a great time walking around and shopping from multiple souvenir shops in downtown.

Hallgrimskirkja church & Sun Voyager sculpture are two iconic landmarks of the city. For the museum fans, there are multiple museums out there about the geological significance and culture of Iceland. Unfortunately, the museums were closed during our visit due to the COVID outbreak.
Travelling on a budget? Make sure you check out free & cheap things to do in Reykjavik.
Accommodations
Here's the list of all the Airbnb stays from our trip and I highly recommend them.
Tip: Message the hosts before booking the property, they might give you a discount on the given price.
Iceland is one of the most sparsely populated countries in the world and due to fewer people in the country most processes at apartments, gas stations, stores are all automated. So do speak to your hosts/hotel in advance regarding the location, parking, keys etc before arriving at the hotel.
So here's my Iceland 5 day itinerary for winters. Hope you enjoyed reading & knowing more about Iceland. While these are some popular destinations, the drive itself is so gorgeous that one might just drive around the country without stopping anywhere and still be awestruck by its beauty. 😍
Also Read: All things Iceland: Important tips for your first Iceland trip
Pin for later: