This is in continuation to my blog post Ultimate Iceland road trip, if Iceland is what you are dreaming of right now, I suggest you to go through this long (but not so painful) post to plan your very own independent road trip. These tips for Iceland trip are based on my personal experiences during my trip in the month of March in 2020.
Iceland is not an impromptu travel destination and requires lots of planning, especially if you're travelling from India as there are no direct flights, the temperature is really cold and yes everything in Iceland from accommodation to food is really expensive.
So let's get started by answering the most important question:
1. What should I wear in Iceland?
The weather in Iceland is quite unpredictable and you might get to experience all seasons in one day. This means one should be well prepared and wear several layers of clothing at all times. Here's a breakup of what I wore during my winter trip and even though I looked like a penguin, I was warm & comfortable throughout.
Head
A warm woolen cap is an absolute essential and to make it more photogenic try some colorful beanie or a pom pom hat.
A lot of people don't mention it but neck warmer is a life saver guys! It will shield your neck and face, the most exposed parts of your body, from the bone-chilling winds. Trust me, I had missed this and had to purchase it from Iceland which made my life so much better.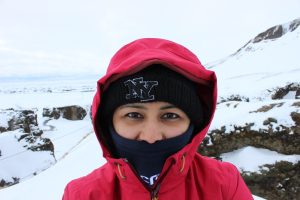 Upper Body
Four layers of warm clothing is good enough to get you through the Icelandic winters. These layers will trap the warmth generated by the body, shielding it from the cold winds outside.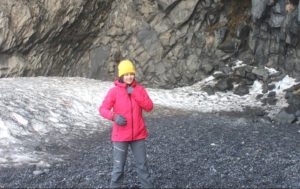 #1 Thermal Baselayer: Go for breathable thermal inner wear that manages moisture and keeps you dry from inside. I recommend going for Merino wool as it is warm and odour-less so I didn't have to worry about washing them for the entire duration of my trip.
#2 T-shirt
: A regular full-sleeve T-shirt
#3 Woolen sweater: Two woolen sweaters are good enough for a week-long trip
#4 Waterproof & Windproof outer jacket: will be your BFF in the harsh winter. If you are buying from Decathalon, you can simply select a 3-in-1 winter jacket that has been tested for upto -10 degree Celsius
#5 Windproof gloves: will protect your hands from the wind chill. Water resistance is nice to have especially if you've planned for any outdoor adventure activity. Here's the link of mine from Decathalon India
Lower Body:
#1 Thermal Base: preferably Merino wool
#2 Waterproof & Windproof Hiking pants: I purchased mine from Decathalon India
#3 Warm woolen socks: for an extreme windy & cold day, you can wear two pairs for extra warmth & comfort
#4 Waterproof snow hiking boots: sturdy waterproof shoes are a must-have as you'll be walking across snow & slushy ice and the last thing you would want is to trip or get your feet wet. I recommend the women hiking snow boots from Decathalon or something on similar lines
Tip:
While walking on the roads, avoid stepping on the black slippery ice. Walking on fresh white snow is far better than walking on ice.
Here's the cost breakup of all of the above items that I purchased:
| | |
| --- | --- |
| Jacket (with an outer windproof shell and inner warm jacket) | $88 |
| Snow hiking boot | $48 |
| Thermal Base layer | $40 |
| Windproof gloves | $17 |
| Hiking pants | $40 |
| Woolen socks (2 pairs) | $13.5 |
| Beanie hat | $6.5 |
| Total Cost | $253 |
2. Where to eat in Iceland?
Eating out in Iceland is insanely expensive, we instantly started feeling poor looking at the prices of sandwiches and pizzas at the restaurants. Thankfully, we had packed lots of ready-to-eat food packets which helped us survive our craving for Indian food and made our meals pretty economical. I would highly recommend packing ready-to-eat meals, trust me that would save a lot of unnecessary expenditure in Iceland. Alternatively, you can buy groceries from your nearest budget store (Bonus, being the most economical one) and cook at your hostel/apartment. That being said, having access to a working kitchen will make it easier to manage meals throughout your trip. So try booking an Airbnb/apartment instead of a hotel room.
Occasionally, you can go out and relish the local food of Iceland when in Reykjavik. Outside the city, the food options are very limited and that's when you can make the most of packed food or cook for yourself. When going out for a day trip from the city, you can grab a few sandwiches & snacks from Bonus to last for the day. Bonus has a good range of vegetarian & vegan snack options.
The tap water is Iceland is the most refreshing water I've ever tasted. I wish I could carry bottles of Icelandic water as souvenirs for my folks, it was so delicious and out of this world.❤
3. How safe is driving in Iceland in winters?
If you're planning an independent road trip in winter, a 4-wheel drive is non-negotiable. As mentioned in my previous post, we had rented a Hyundai Tuscon from a local car rental company Lava and had a great experience with the car.
Also, always check weather & road conditions on the Weather safety & Road safety websites before heading out for an adventure. The weather in Iceland can change very rapidly and road closures are very common especially during peak winters.
Tips for driving on icy roads
At times you might feel that the car is not under control as the tires slip on ice. The important thing is to not to panic and jerk the car in the opposite direction of the slip. If you do that, you are going to make it worse.
Goes without saying, but always adhere to the speed limit and especially in icy conditions, drive at a speed you are comfortable at. Most roads in the upcountry are single lanes but don't worry the locals will let you pass by without complaining
The winds in Iceland are deadly and hence while driving you might feel the wind too steering your car in a different direction. Again – Do not panic. The car is heavy enough to manage this and you don't need to take any drastic steps.
DO NOT go on snow covered roads. You do not know the depth of snow and where the road will end.
Driving during a snowfall is totally normal. No need to stop your road trip if it is snowing outside. Its ice that can get tricky to drive on but not fresh snow (especially on the main roads).
Gas Stations & Petrol
If you're driving abroad for the first time – then you might not be aware that unlike India – there are no gas station attendants to fill petrol in your car. So if you're not used to this, please follow the steps as below –
Park your car close to the nozzle at the gas station – near to Petrol/Diesel – whichever applicable for your car. Make sure your fuel tank opening is at the same side of the pump.
Note the pump no. from which you will be filling up your car.
Now you need to find the payment machine – this will not be on the pump itself. Here you will need to use your credit/debit card.

Insert your card into the machine
Choose the pump No. and type of fuel
Choose amount that needs to be filled. Here you can also choose "Full Tank" as an option"

Now just take the nozzle out of the pump and fill your car for the amount chosen. The pump will automatically stop at the amount you chose. In case you chose full tank, you need to do this manually
After filling up, insert your card again in the payment machine and collect your receipt.
TIP – Very important. Many gas stations in Iceland block a higher amount on your credit card when filling up gas. For example, I had chosen 2000 ISK worth of Diesel to be filled up, but the credit card transaction message I received was for 20,000 ISK which really freaked me out. DO NOT worry, this is only the amount that is getting blocked on your card but they will charge only amount you have actually used. For more piece of mind, always take a printed receipt from the gas station so that you can challenge false transactions later on.
Parking
Parking is free in most places in Iceland but finding a place to park in Downtown Reykjavik can be a task in itself. In Reykjavik, like in other European cities, there are parking zones categorized as P1, P2 & P3 -P1 being the premium most & P3 being the cheapest. All of these slots are chargeable only during office hours i.e. 9 A.M. to 6 P.M. on weekdays and 10 A.M. to 4 P.M. on Saturdays, outside those hours, parking is free.
These are the few important things I wished I had known before going to Iceland; I hope they come in useful for your own first trip to this beautiful place 😍