Nothing goes as planned when you travel during a pandemic- yes that's our story! That's how my husband and I ended up spending 3 months in Amsterdam when the Indian government banned all  international flights to India, while we were on our honeymoon in Europe. Due to the COVID restrictions, we were unable to check out the popular touristy spots of central Amsterdam or visit the popular museums, but ended up living like a local in a residential locality in Amsterdam Zuid (South). Here's more about my experience and observations about living in Amsterdam.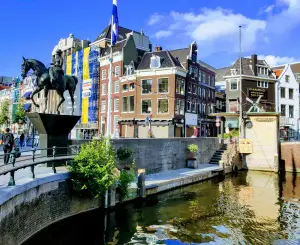 Response to COVID pandemic
When we first arrived in Amsterdam in the month of March, we had heard about the devastation caused by COVID-19 in Italy & France and the growing number of cases all across Europe. With no clarity on the return date to India, we were scared for our health and sustaining our finances. But in contrast to other European countries where people were virtually housebound, the Dutch government merely advised people to stay home and keep 1.5m of social distance. The citizens were free to go out whenever they wanted, provided they followed the preventive measures. Even when the world was falling apart, the Dutch were pretty chill. People were often seen running and cycling around, while maintaining social distancing, even during the peak of pandemic in Europe. Businesses adapted to the new normal and the supermarkets ensured that people sanitized their hands and carried a cart to maintain the distance. The people in general were very cooperative and probably this could be one of the main reasons why the "intelligent lockdown" worked really well for the Netherlands.
City infrastructure- promoting healthy living
One thing I loved about living in Amsterdam (or Netherlands in general) is how the city is equipped with an elaborate network of cycle lanes and footpaths. Bicycles are the most popular mode of transport even among the elderly. No wonder why the Dutch looked so fit. Yes, we barely saw anyone who was obese during our stay. Needless to say, cycling is the most environment-friendly way to get around. 
Not just that, the overall city infrastructure revolves around making healthier & greener living spaces for the people. Apart from cycling lanes, there were multiple paths where the running routes were marked within every 400m with signs on the streets. We often found people running on the sidewalks especially in the residential parts of the city. The availability of this infrastructure ensures that people take health & fitness very seriously.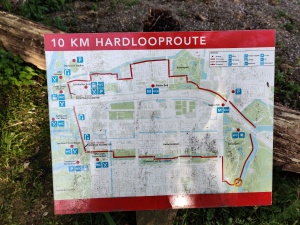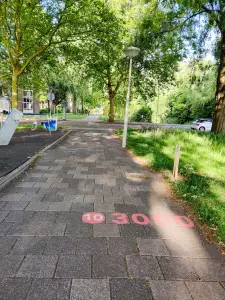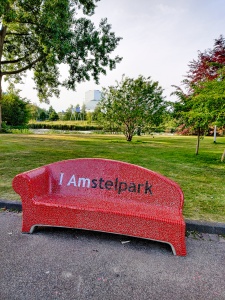 The picturesque canals & parks
The famous dutch canals that we see in pictures are definitely worth all the hype. Initially canals were built as passages to drain out water into the sea and reclaim the wetlands for human settlement but today they are the center of attraction, making the city look so scenic. Even in residential areas, we often found people hanging around & socializing near these canals. On sunny days, people would gather around near the canals, with their bottles of wine and spend hours chilling there. As the pandemic slowed down in the Netherlands, these sights became even more common and we often saw canals and parks become crowded during sunny afternoons.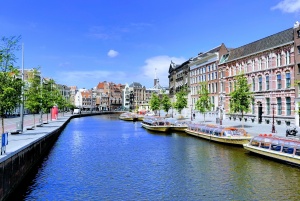 Speaking of parks, the city boasts of over 30 huge parks with trees, ponds and flowers, perfect for someone who loves nature and green surroundings. We went to the two popular ones- Vondelpark (Central Amsterdam) & Amstelpark (South Amsterdam) and it was a delight to see the beautiful flowers in full bloom. We also up-skilled and tried our hands at macro photography and captured some wonderful shots. 
Also check out – Best parks in Amsterdam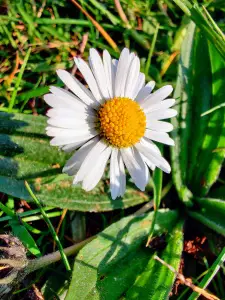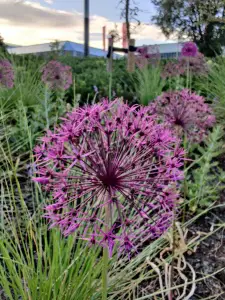 Sunny spring season is the best time to be in Amsterdam due to the favorable weather. The Dutch seemed to be very outdoor loving, in general. When it was sunny outside, people would pack their snacks & drinks and claim a spot in the park and soak up the sun for hours while following the rules of social distancing.
Friendly & fashionable people
Amsterdam had an infectiously feel-good vibe. The people would ask how we were, wish us a good time, ask if we needed help, or try to make us laugh. I remember walking up to a souvenir store and the lady instantly started chatting with us. She was surprised to hear that our country had locked their own citizens out of the country and gave us a small souvenir for free with our purchase, wishing us good luck.

The people were not just friendly and tolerant, but also had a great sense of style. We didn't see anyone looking like they just rolled out of bed. Most people were all well dressed even when they were out for grocery shopping. Their fashion sense was quite impressive – at least to my standards .
Cold & windy temperature
Definitely not a big fan of the weather! I had a difficult time dealing with the continuous temperature fluctuations within a day. On some days, the temperature dropped close to 10 degrees at night and I had woken up feeling cold and feverish. The weather for me was pretty much cold and windy even during the spring season. I realised that I don't do well in windy conditions – maybe that is to do with living in Delhi for most of my life. Apart from the erratic  weather, the daylight always had me confused about the time of the day as it was always bright outside, even after 9 PM. Coming from India, I didn't realize I was so used to the sunrise and sunset timings.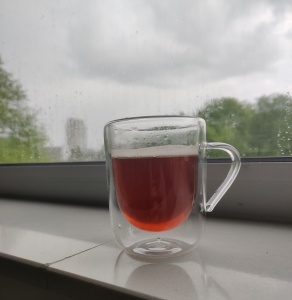 However – it was not too bad. We did step out of the house to enjoy the bright sun with temperatures soaring above 24 degrees; weather I can get used to.
Architecture
From the canal houses in central Amsterdam, to the sleek contemporary masterpieces in Amsterdam Zuidas, there's no dearth of beautiful & innovative structural designs in the city. The whole city is a real eye-catching pleasure with a mix of futuristic projects, luxurious canal houses from the 17th century and charming facades. Even though I'm not an architecture nerd, I surely fell in love with Amsterdam and its stunning cityscape.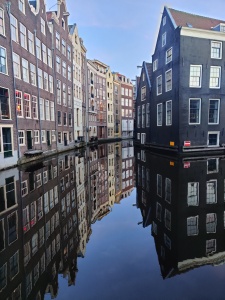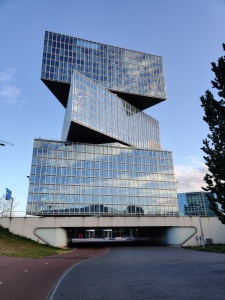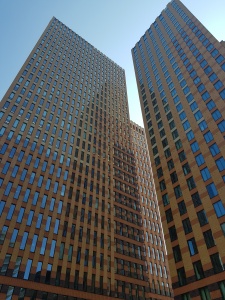 To wrap it up, we had a wonderful time living in Amsterdam even during the pandemic, as it became our home away from home. We were lucky to witness the city in its true element, without the tourists, which wouldn't have been possible had we stayed only for four days. I would love to go back once the situation is back to normal and do all the touristy things that we missed this time ☺
Also Read: Work and vacation in the mountains: Travel in the new normal