Growing up in India, I was always proud of being a conscious vegetarian. Not just food, but most of my lifestyle choices were driven by the idea of living an ethical, sustainable and healthy lifestyle . To be honest, it is pretty easy to be a vegetarian in India, considering the cultural acceptance and the easy availability of a variety of flavorful vegetarian food.  But becoming a vegan and giving up MILK was just too much to ask. It was not until I watched I watched the documentary Cowspiracy on Netflix, that I realized that giving up dairy was inevitable in order to live a sustainable lifestyle.
Milk and other dairy products are considered inherent to the cultural fabric of India. Milk products are also one of the most prominent sources of protein and calcium. When I decided to turn vegan, I faced a backlash from my family and honestly, at that time even I was scared for my health. Would going vegan hamper my health? Where will I get my protein from? Will I be losing on taste? These were a few questions that were always on my mind which deterred me from taking this big step of eliminating dairy completely.
So I decided to learn more about dairy replacements, their impact on the environment and their nutritional content. Most popular dairy replacements nowadays are plant milks – which are basically milk like liquid extracted from soaking and grinding nuts, seeds, grains or legumes. I found it quite fascinating that I could actually make milk myself at my home and it did not necessarily have to come from the dairy farm. This way I had better visibility over the ingredients of my milk beverage. If you too are intrigued, let's get to the point and compare plant based milk vs cow milk.
Disclaimer: The data shown in this post is all from my research across the internet applied on my diet and the substitutes I used. The result for you might be a different basis your current diet. 
Environmental Impact : Plant based milk vs cow milk
I have researched a lot on this subject and the basics of what I have read tell me – if you mess with nature in any way there will always be some consequences. For example – eating red meats like beef, pork lead to very high greenhouse gas emissions, very high land usage (land that is used for grazing of cattle) and water usage (for the animal feed). Eating fish on the other hand is relatively less detrimental for the environment – but when you eat fish – you are contributing to the destruction of the oceans, messing with the food cycles of the other animals (larger fish, penguins, etc) which also causes a lot of disturbance of the system.
I would also say when you eat any sort of vegetable – because there is a large supply chain at work to get those veggies to your home – you are still leading to some ill-effects on the environment. Hence, the only thing we need is to make the right choices to minimize our carbon footprint and minimize the damage we as humans can cause to the environment. In that endeavor, the switch from animal milk to plant-based milk can help you take a huge step in the right direction.
Levers impacting the environment
Greenhouse Gas Emissions – The process for producing cow's milk produces a large amount of greenhouse gas. For every 200ml of cow's milk produced – an estimated 0.6kg of carbon dioxide or equivalent greenhouse gas is produced. If you compare this to plant-based milk, the process produces one third of that.
Land Usage – The land that is used for animal grazing in the milk production is the source of high levels of deforestation across the world (in addition to animal grazing for meat). For every 200ml of milk produced – an estimated 1.8 square meters of land is used up. For plant-based milk, the land usage is more than 90% less.
Water Usage – Production of animal feed is an extremely water consuming part of animal agriculture. For every 1L of milk produced almost 628 liters of water is consumed. If you compare that with plant-based milk that is a huge amount – Soy Milk (28L), Oat Milk (48L), Almond Milk (371L) and Rice Milk (270L). So if you are using Soy/Oat milk substitutes, you are reducing water usage by more than 90%! Isn't that awesome? 
Also Read : 20 Amazing vegan skincare products in India
Health Benefits : Plant based milk vs cow milk
When I started on my journey towards veganism, the primary reason was to reduce my individual carbon footprint. Little did I know that it is also extremely healthy and a lot of a athletes have shifted to a plant-based diet to improve their fitness. You can watch the documentary 'The Game Changers' on Netflix and it goes into a lot of detail how a plant-based diet has helped multiple athletes. Many athletes like Virat Kohli, Lewis Hamilton, Venus Williams, Serena Williams, Novak Djokovic, Mike Tyson (and more) have gone plant-based to improve their performance. Plant-based diet gives you better digestion, brings down blood pressure, cholesterol, weight and helps with cardiovascular health. 
Levers impacting our health
Cholesterol – Animal milk contains cholesterol and depending on your intake can increase your cholesterol levels. Plant-based milk on the other hand contains ZERO cholesterol.
Saturated Fats – Plant-based milk contains a much lesser quantity of saturated fats than cow's milk. A lot of research points to saturated fats leading to detriment of cardiovascular health and high levels of cholesterol.
IGF-1 Hormone – the Insulin-like Growth Factor-1 hormone is present in cow's milk and consumption of this hormone in excess quantities can mess with the human insulin system. The side effects can lead to overgrowth of body tissues and damage to joints. It can also cause our blood glucose levels to drop. Some studies have also pointed to increased risk of common cancers like lung, breast and prostate. 
Another myth about moving to plant-based milk is that you get less protein in your diet. Below are the levels of protein in different types of milk (200ml) – 
| | | | | | | |
| --- | --- | --- | --- | --- | --- | --- |
| | Almond Milk | Soy Milk | Rice Milk | Coconut Milk | Oat Milk | Cow Milk |
| Protein (g) | 1.7 | 8.7 | 0.9 | 0.0 | 4.0 | 3.3 |
Hence if you consume Soy Milk you can easily get more protein in your diet than cow's milk.
Replacing Milk Products with Plant-Based Substitutes
Now that we know about the different benefits of plant-based milk on our health and the environment, it is time to put it into practice. I will tell you about my diet before I switched to a plant-based diet basis which you can understand how much impact one can have on the environment and on their own health.
In the below table, you will be able to see my diet before I went plant-based and the substitutes that I use now:
Meal

Old Diet

Plant Based diet with dairy substitutes

Breakfast

Milk Tea/Coffee
(1 cup)
Tea/Coffee – with oat milk
(1 cup)
Cereal/Oats with Milk (1 Bowl)
Cereal/Oats with Soy Milk (1 Bowl)
Toast with Butter
Toast with Vegan Butter (Made from Veg Oil)

Morning Snacks

Milk Tea/Coffee
(1 cup)
Tea/Coffee – with oat milk
(1 cup)
2-3 Cookies
2-3 Cookies

Lunch

Veg Grilled Cheese Sandwich/ Matar Paneer with Roti
Veg Grilled Vegan Cheese Sandwich/ Matar Tofu with Roti

Evening Snacks

Milk Tea/Coffee
(1 cup)
Tea/Coffee – with oat milk
(1 cup)
Greek Yogurt (1 Cup)
Vegan Yogurt (1 Cup) – coconut

Dinner

White Sauce Penne Pasta with Cheese
White Sauce Penne Pasta (made with oat milk)

Before Sleep

1 cup of Milk with Cocoa Powder
1 cup of Soy Milk with Cocoa Powder
Based on the data I found on the internet (you can refer to the links I provided above) – I calculated the impact that I have on all the 6 impact levers mentioned above. I will not bore with you the detailed calculations but the below images represent the impact: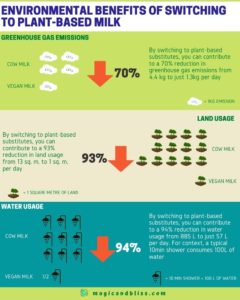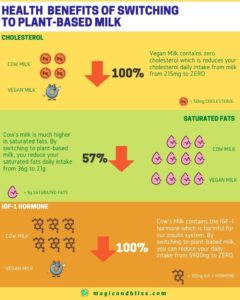 Amazing right? With such easy steps you can create such a wonderful impact!

Transitioning slowly is the key
Now I am also realistic that giving up milk completely is difficult. It has taken more than a year to do so and sometimes I indulge. Also, plant based milks are not very competitively priced in India and not everyone might have the time to make it at home ( like I do). But this calculation really makes me feel good about the impact that I have had. 
Plant-based milk has an acquired taste and it takes some time getting used to it. I would recommend not switching 100% immediately and to do it in a phased manner. Here are some tips:
Replace Milk with Soy Milk when consuming with some flavor – this included my breakfast (Cereal with Milk) and the milk before sleeping (with cocoa powder). This is the easiest to follow as the taste does not get impacted when you are having the milk with some extra flavoring.

Replace Milk Products with Substitutes – like butter with vegan butter, paneer (cottage cheese) with Tofu can be your second phase. The texture of substitute products can be a bit different but with proper preparation (like seasoning of Tofu), you might not notice the difference.

Replace milk in your Tea/Coffee with Plant-based milk – this is the toughest transition in my opinion. For a chai enthusiast like me, replacing my it with oat milk was the toughest transition. The taste definitely changes here and it takes a while to get used to the taste. I still sometimes do slip and indulge but I have been doing quite well recently.
I hope this post gave you more insights on the impact of cow milk vs that of plant based milk and inspires you to take the next step forward in eliminating (or reducing) dairy from your diet. Do let me know about your experiences in the comments below. 🙂

References
Environmental Benefits of Plant-Based Milk – 
Health Benefits of Plant-Based Milk – 
Pin For Later