This is a continuation of my post "Scuba Diving – My underwater adventures across the world" where I talk about my different experiences, scuba diving around the world. If you've made up your mind to take the plunge and go for your first dive, here are my 10 scuba diving tips for beginners that you can brush up on before your next dive.
If you're thinking of getting certified for scuba diving, there are some important things to keep in mind. Diving is an amazing feeling, but there is also a very serious side to it. As a beginner, please try and focus and learn from your instructor and as you gain experience you will see it come effortlessly.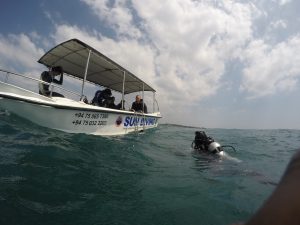 Now, based on my experiences, here are 10 scuba diving tips for beginners –
#1 Do not cheap out
I learnt this the hard way. Even though there might be cheaper agencies – I seriously doubt that the quality of instructor and equipment will be the same. This is one of the experiences of a lifetime and not to mention it is dangerous as well – SPEND the money and you will be better for it.
#2 Read reviews of the agency you are going with
First dive can be an overwhelming experience, with so many things to know before the dive. Make sure you know in and out about the agency you're planning to dive with and the reviews of the training professionals. With google and so many resources available online – a quick search of the agency will help you learn about other's experiences and make the right choice.
#3 Try to go in the mornings to avoid waiting and rushing through
This is more of a personal choice. If you are not a morning person, then skip it. But if you do go in the morning – you might find yourself doing longer dives and instructors giving you more attention. Of course, you won't have to wait either. An additional plus might be that the weather will be better rather than going in the afternoons.
#4 Take your time in the training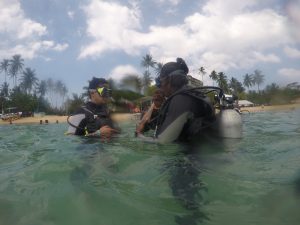 I have seen many people ignore this bit and take it easy during the training section of the scuba diving. It does not work out well. Pay close attention and clarify any doubts you have. Ask questions – this is a dangerous activity and there are no wrong questions. Make sure your gear is working properly and have the instructor double-check everything.
#5 Wear the wet suit only just before getting ready for the dive. Do not wait in it
If it all possible – wear the wet suit as late as possible before the dive. If you are not diving regularly, it is not a comfortable thing to wear the wet suit and it will end up really irritating you if you're just waiting in it for too long. My first time I was wearing it for 90 mins and that too standing in water.  It was an impossible task to go the washroom as you need to take the whole suit off again.
#6 Do not let the instructor rush you. Descend at your own pace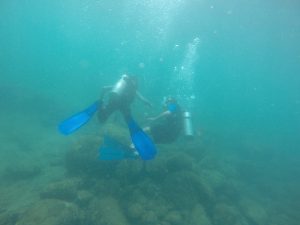 This is very important. While you are descending, keep on equalizing your ears. If you don't do this, you will find it very hard to enjoy the dive later as you will feel very uncomfortable. Descend at a slow pace and equalize your ears. If you are not able to do so, ask the instructor to go back up again by doing the thumbs up signal. Tell him/her what is wrong and repeat. There is no point trying to be macho at this point. You have paid for this experience, do it right!
#7 If you are uncomfortable, come up to the water. Do not hesitate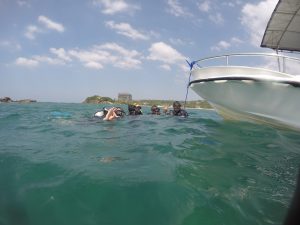 I can't stress this enough and hence made a separate point out of it. If you feel uncomfortable descending into the water – come up, discuss with your instructor and then try again. DO NOT carry on. It might be dangerous – you might have water coming in through your mask or even some bleeding (as I experienced). Ultimately, if you are not comfortable – you will not be able to enjoy yourself.
#8 Whilst in the water – Breathe slowly & smoothly, remove water if it enters your mask
Oxygen supply is limited underwater – try to breathe slowly and smoothly. One trick to save on consuming excess oxygen is limit unnecessary movements of arms and legs. The less energy you consume moving against the water, the less oxygen you will consume.
When you're down there and you have reached maximum depth, there will be times where water enters into your mask. There is no need to panic. The instructor would have covered this with you before the dive – just do what he/she told you to do. Mostly it is putting your head up, lifting your mask up a bit and exhaling. This will help clear it out.
#9 Do not touch anything in the water without instructor's guidance
You need to be cautious about what you are touching in the water. Things might look harmless but can be dangerous. Rely on your instructor's judgement in this case and do not touch anything unless told to do so.
#10 Experience matters. You won't get it right the first time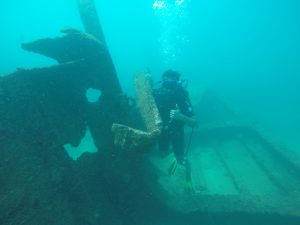 Scuba diving is not easy. There are lots of little things that you pick up while you go through your first few dives. So, if it is your first dive and it does not go that well – there is no reason to fret. You will keep learning through experience and will be better when the next opportunity comes along.
Hope you enjoyed reading my post and please do keep in mind the scuba diving tips (for beginners) I have shared above. My dream this year was to do a full course and get certified but due to the pandemic and all the restrictions – that has been put on hold. Hopefully I will come back with a post once I get certified again 😊
Till then – let me know what you thought of my experiences in the comments and subscribe to the blog. Cheers!
This post has been contributed by a special guest, my husband- Ankit 😊
Pin for later: