On the precipice of Europe and Asia, Turkey is a wondrous location where cultures collide, east meets west and is the perfect concoction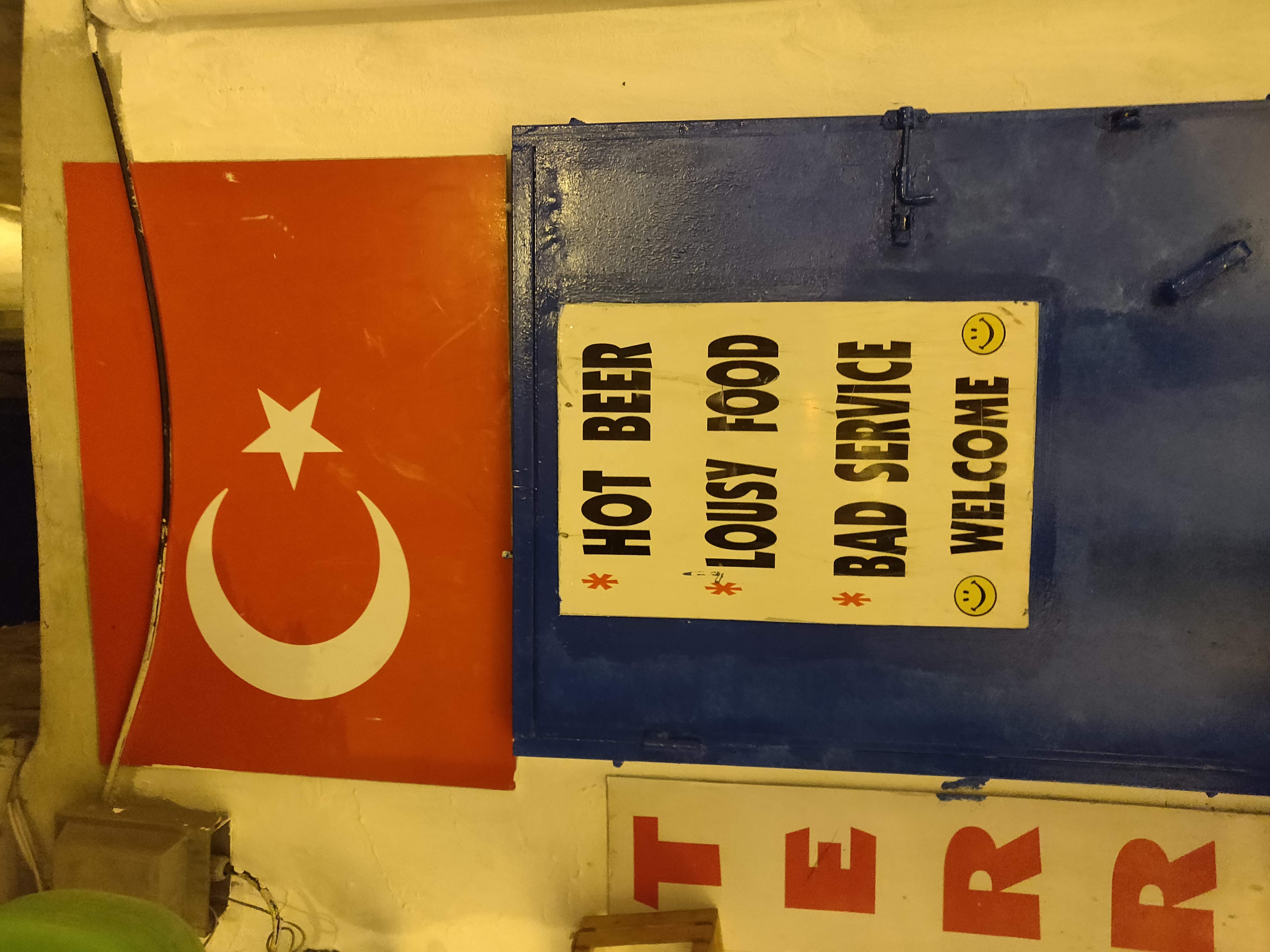 for an epic vacation. From the cultural streets of Istanbul, to the epic views of Cappadocia and the pristine beaches of Antalya – there is so much to see. I was fortunate enough to go to Turkey back in 2019 to spend an epic 10 days road trip across this beautiful country. So here's my Turkey travel itinerary for 10 days, especially useful for first time visitors.
One of the biggest things I have learnt in all my travelling years is to not spread yourself too much during a vacation. It ends up being so tiring that you can't really enjoy yourself. With that in mind, we kept the trip long but the number of destinations limited to three.
Day 1: Fly from New Delhi to Istanbul
The first day was spent mostly travelling from Delhi to Istanbul. We had an early morning flight and given some no-fly zones over Pakistan at the time – we had to take the longer route which took us 9 hours to reach Istanbul instead of six.
We reached Istanbul at around 6pm in the evening. At the airport, we tried to figure out the best way to reach the city and it was the city bus. We were staying near Sultanahmet which is the touristy region of the city.
As per our Turkey travel itinerary – we were going to do two stints in Istanbul. The first one being shorter and reserved for the tourist spots and the second one to really look around the city as a local and experience the culture.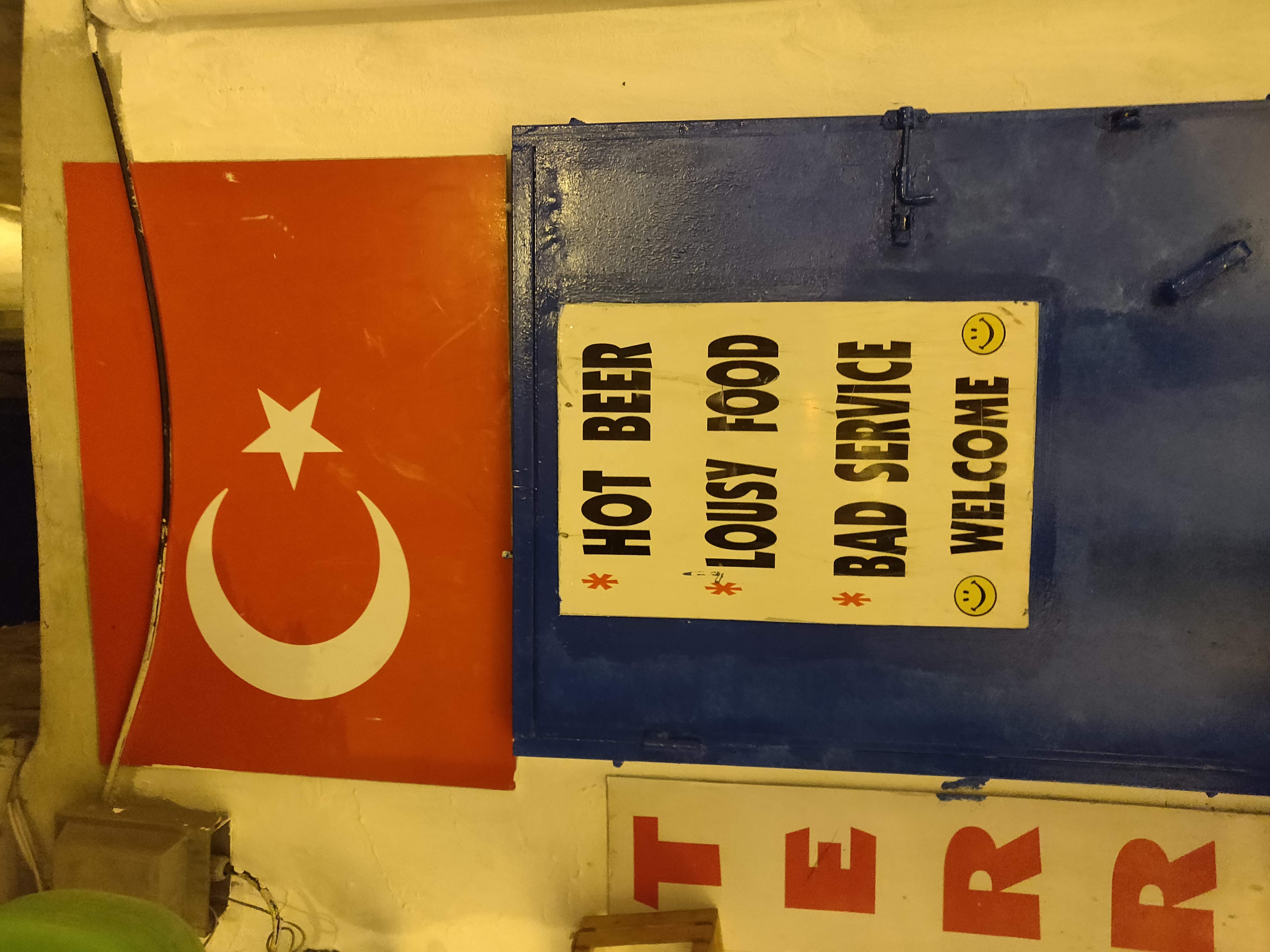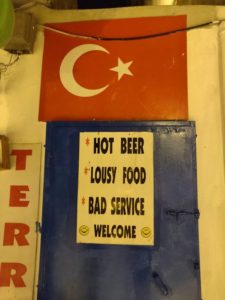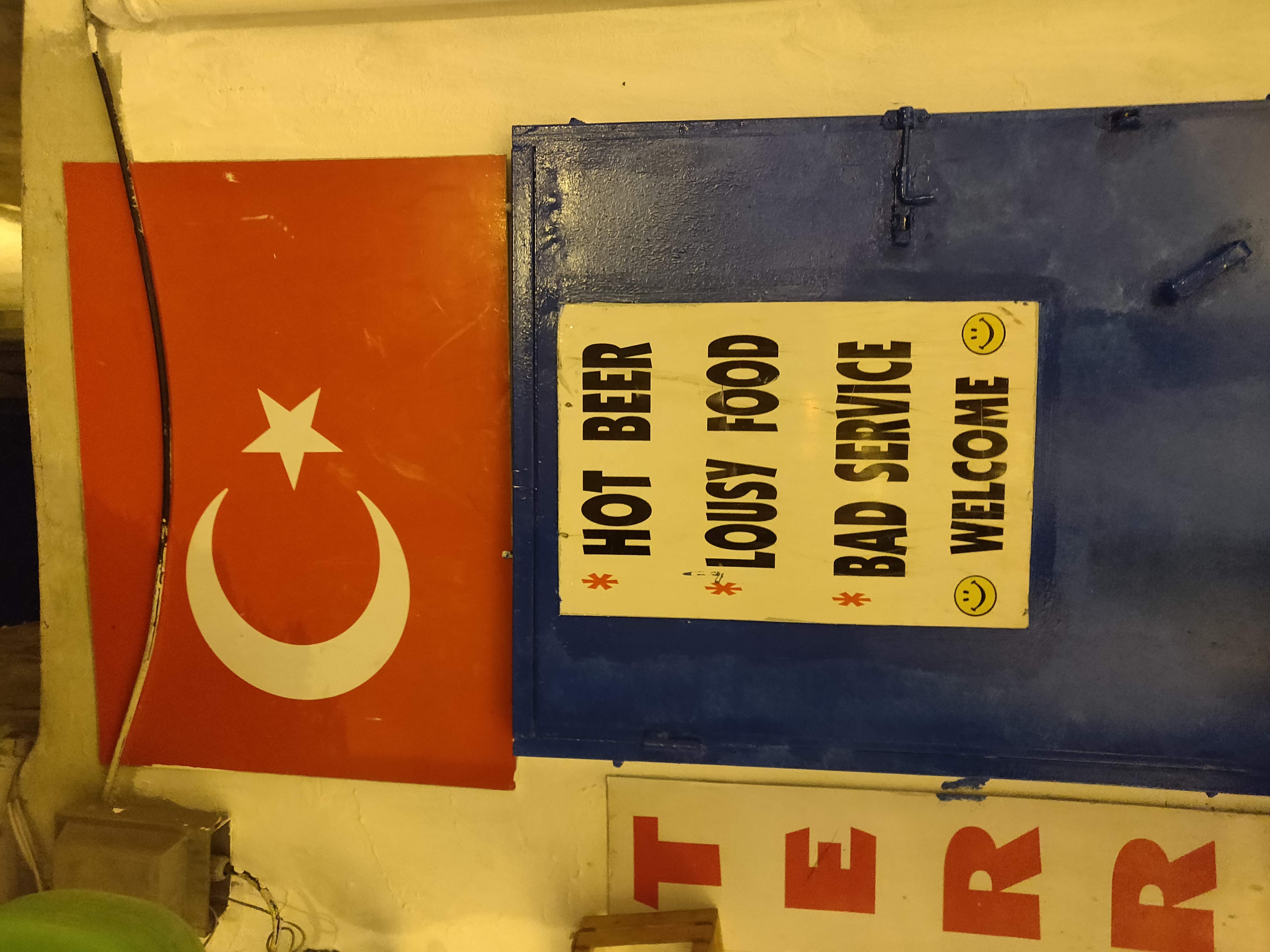 On our first night, we went to  a local cafe for dinner and just walked around the beautiful Sultanahmet Square and took in the sights. We stayed at an amazing double suit Airbnb at Sultanahmet. The host was very helpful and told us about all the places to visit nearby and where we could get some food, drinks, etc.
Day 2: Istanbul Sightseeing – Touristy locations
We started Day 2 early as the schedule was quite hectic. We had decided to visit as many places as we could in Sultanahmet. It is quite impossible to cover all the wonderful things to do here, so we decided on a few that we could do that day.
Hagia Sophia
The first on the list for anyone visiting Istanbul has to be the Hagia Sophia. I like to take things fresh and not do a lot of pre-reading about the places I visit. That is what I am pleasantly surprised to know about the historical significance of places. Hagia Sophia was no exception.
Hagia Sophia, built in the 6th century, was a church for a short period in the 13th century before being converted into a mosque in 1453. But I could still see remnants of the church in abundance. Picture and sculptures of Christ in many places along with the traditional elements of a mosque. It shows that even when the conversion to mosque happened, the church elements were not removed. The place is an example of the two religions existing in harmony which is very different to the world where we live in.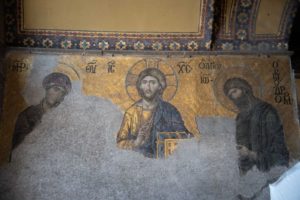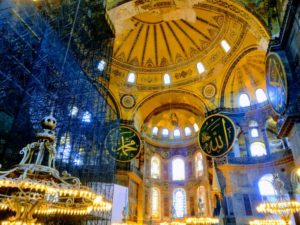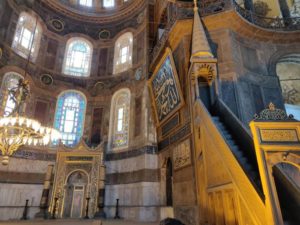 I will let the pictures speak for themselves about the immense beauty of this monument. No wonder it is a UNESCO world heritage site and has been very well maintained over so many years.
Blue Mosque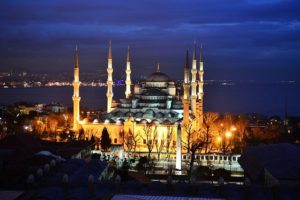 The next stop on the list was the beautiful Sultan Ahmed mosque, also known as the Blue Mosque. This is a very popular tourist destination because of its stunning blue interior. Unlike Hagia Sophia, this is a functional mosque, hence you need to be careful about the timings that you visit as the place might be closed to tourists during prayers.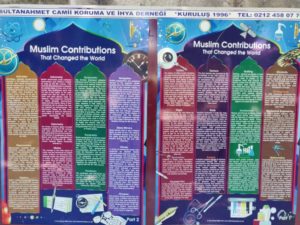 One of the striking things I found here was not inside but outside the mosque. There were posters listing down all kinds of achievements and contributions of Islam to the world. It was amazing for me to read these and get to know about the positive impact that Islam has had on the world we live in.
Sultanahmet Square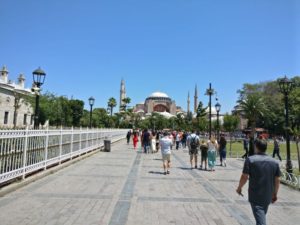 Also known as the Hippodrome, this is the name of the large complex in which the Hagia Sofia and The blue mosque are located in. It is  traffic free and just a joy to walk around and explore. You can get yourself a bite to eat, chill at a cafe or just find yourself clicking pictures in the beautiful gardens.
Obelisk of Theodosius
Erected in the middle of Hippodrome, the obelisk of Theodosius is an well-preserved pink granite structure – originally carved in 1500 BC and then re-erected in the hippodrome in 390 AD.
Explore the Museums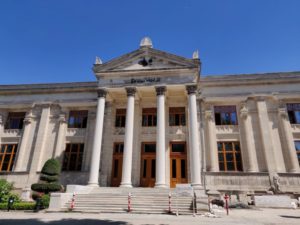 Sultanahmet is home to a number of museums depicting Turkish and Islamic culture:
1. The Topkaki palace museum
2. Museum of Turkish and islamic architecture
3. Istanbul archaeological museums
4. The museum of ancient orient
5. Istanbul museum of the history of science and tech in Islam
You can either choose to pay at individual entrance gates or take a Museum pass which will allow you to move freely between them. We covered so much and yet there were other places that we left out such as the Hagia Irene, Arasta Bazaar, Gulhane Park, Basilicas Cistern and Bukoleon Palace. If you are planning to spend an extra day then do check these out as well.
Day 3: Travel to Cappadocia and underground caves
The next day we had an early flight from Istanbul to Kayseri from where we would proceed to Cappadocia. For the next leg of the trip, we were going to the Asia part of Turkey and had planned to explore it in a self-driven car that we rented from Sixt. The drive from Kayseri to Cappadocia is a short one – only an hour (about 60kms). We had some time and so we decided to take a little detour to visit the Derinkuyu underground city.
Cappadocia is home to over 150 underground cities dating back to 3000 BC. Of these, very few have been discovered and only six are open for tourists. The deepest of which is the Derinkuyu underground city with eight levels.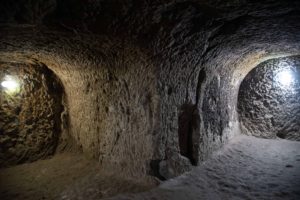 Although this was a spur of the moment thing, I was glad we visited this place. A whole city that used to house thousands of people with homes, a church and working plumbing was just a miracle to me. We hired a tour guide for 100 Turkish lira and he explained the different mechanisms and the purpose of the different rooms which was definitely worth it. Apologies for the pictures though, there isn't much light in the place, so you can only really capture the beauty of this place if you visit there.
After this we moved on to our hotel in Cappadocia and we were in for a treat. Cappadocia is known for its cave hotels and ours was not an exception. The room was incredible and felt like the inside of a cave.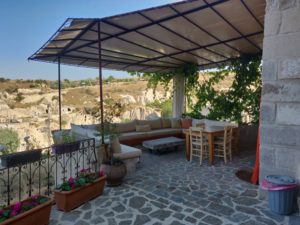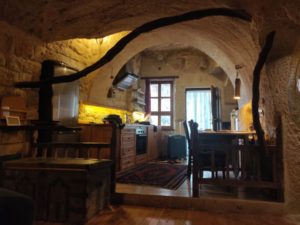 We just chilled at the hotel for the rest of the day before heading out again in the evening to visit the Zelve archaeological site for their well-known sound & light show that uses mapping techniques to dive into the history of Cappadocia. This is a great way to spend the evening and the show is truly one of a kind.
Day 4 – Explore Cappadocia
Similar to Istanbul, there are many many things to do in Cappadocia and depending on how many days you have you can do 2 things to over 30 things in Cappadocia. Hence you can choose to follow what we did or design your own based on your interests.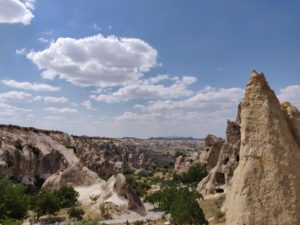 We started our 2nd day in Cappadocia by going to the Goreme Open-Air Museum. The place consists of brilliant rock-cut churches dating back to the 10th century. The Goreme Open-Air Museum is a fan favourite of Instagram influencers. We caught a glimpse of many posing with the views from the Museum (undoubtedly for their Instagram followers).
Next, we decided to do one of the many hikes that Cappadocia has to offer – the love valley hike.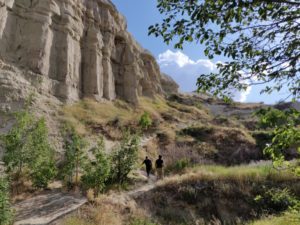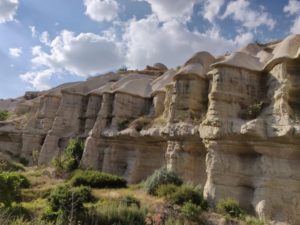 The Love Valley is named after the phallic-shaped rock formations along its path. The hike is relatively less crowded and you can enjoy your day in the raw nature exploring the place. It can take anywhere between 2 to 5 hours depending on how far you want to hike. It took us about 3 hours after which decided to head back to the hotel.
In the evening, we felt so tired from the hike and just wanted to relax. This was the perfect time to enjoy a Turkish Bath at one of the Hamams in Goreme. The bath starts with some time in the sauna, followed by a shower, massage, bubble bath, jacuzzi and then back in the shower. The overall experience really helped us relax after a very tiring few days.
We ended the day at the Pasha Cafe with some dinner consisting of traditional Turkish delicacies and some flavored Hookah. We had to sleep early to catch the Hot Air Balloon experience at sunrise the next morning. As I said, there are many many more things to do in Cappadocia and you can easily spend 3-4 days there, here are some of the amazing things to do in Cappadocia.
Day 6 – Hot Air Balloon & Travel to Fethiye
We woke up early just before sunrise in order to catch the Hot Air Balloons from the roof of our hotel. We had decided against taking the hot air balloons ourselves as that would have meant waking up at 3:30 in the morning which would have ruined our travel day to Fethiye. Secondly, it costs 180 euros per person for the basic experience in the hot air balloon and it did not feel worth it.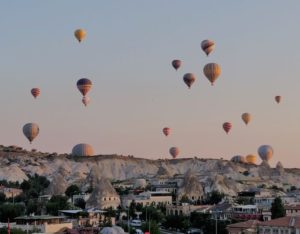 But we ended up having a great time looking up at the sky at the hundreds of hot air balloons up in the air. It was a sight to behold. As at Goreme, we again caught a glimpse of many Instagram influencers posing with backdrops of the hot air balloons for their profiles.
We soon left for our next destination Fethiye – a 10 hour drive from Cappadocia. This gave us a chance to take in the vast landscapes of the countryside. The roads are amazing in Turkey and I would definitely recommend a road trip in this country. We reached Fethiye in the evening exhausted from our travels and decided to stay in at the hotel we had booked. We relaxed by the pool and had a quite night in.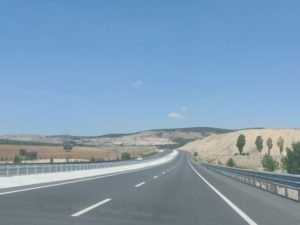 Day 7 – Full Day at the Sea
This was one of the most memorable parts of the trip. In the deep blue waters of the Mediterranean sea, we had planned an all-day cruise consisting of 2 deep sea diving sessions. Read more about my diving experience in Turkey and come back to this post.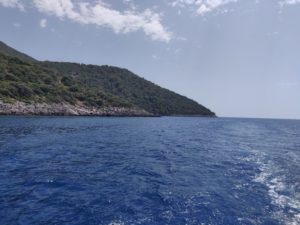 After our day long cruise, we decided to visit Oludeniz Beach where we relaxed by the sea before heading back.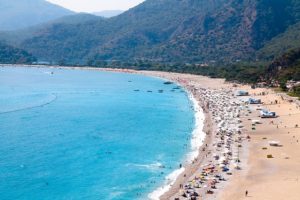 Other things to do in Fethiye –
Calis Beach
Tlos Ruins
Butterfly Valley
Alanya is another popular town on the Mediterranean coast. If you have a couple of extra days in hand, here's how to plan a trip to Alanya.
Day 8 – Back to Istanbul
We headed to Dalaman Airport the next morning for our flight back to Istanbul and returned the car at the Sixt office near the airport. At Istanbul, we checked-in into our second AirBNB, where we had booked in a different part of town this time. This one was even better than the one in Sultanahmet and I will leave the link for the same here.
Our second time in Istanbul was quite spontaneous and we decided just to wing it and explore the city like a local. We roamed around the streets near our house and went to the area near Taksim Square which is the main shopping district. We explored the nightlife of Istanbul and with our Airbnb host who took us to Besiktas.
Besiktas is an area full of night clubs and cafes and is filled with locals and tourists alike. It was amazing to see everyone out and about and having the time of their lives. We enjoyed the night at Besiktas with a few drinks before heading back home.
Day 9 – Explore Istanbul
Shopping at the Grand Bazaar
Look no further than Grand bazaar to enjoy your shopping. There is always a bargain to be had and it is the best place to get your souvenirs from your memorable trip to Turkey.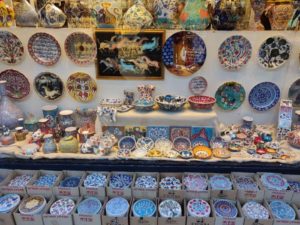 Here's a list of different things that I saw and shopped from the Grand Bazaar.
Different types of Turkish tea – you will find shops selling different types of tea which have special functions. I bought the relax tea to calm my nerves at the end of the day. You also have herbal teas, immunity booster teas, love tea and energy boosting teas as well. Having used the relax tea quite often over the past year I can safely say that it really works
Turkish delight and sweets – many types of Turkish sweets are available including the Turkish delight and baklava
Jewelry – I bought a lot of this for my family members in the form of bracelets and anklets. The prices are negotiable and you will see some unique designs
Turkish plates
Dates and other assorted eating items
Souvenirs
Clothing
Spices
Exploring the city on foot, tram, metro
It is quite fun just to walk the streets of Istanbul and experience it as a local. Just hop on the the metro and get off at any random station and you can just experience the hustle and bustle of the city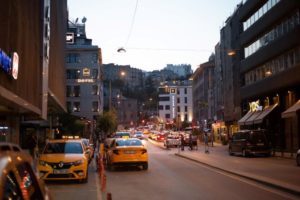 Checking out Bosphorous views along different parts of the coast
As part of the walking around – be sure to walk around the coast and check out the beautiful views of the Bosphorous especially from the Galata Bridge.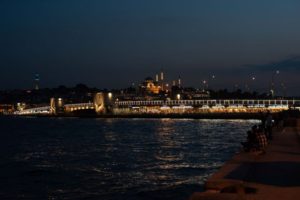 Hamam- Turkish bath
Experiencing the Turkish Bath again in Istanbul (It is a good idea to book in advance though).
Read more about the best places to visit in Istanbul
Day 10: More sightseeing, shopping. Flight back to Delhi
We spent our last day in Istanbul doing a bit of everything – shopping, eating the best Turkish sweets and just walking around Taksim Square and the surrounding market (Istaklal Caddesi).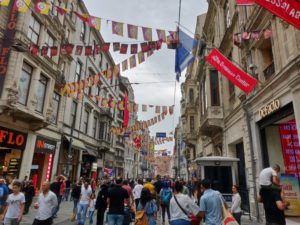 We took our flight back to New Delhi in the afternoon and reminisced on our first (and certainly not last) trip to Turkey.
Must Try in Turkey
Turkish Tea
Wherever we went for lunch or just to chill – we always had the traditional Turkish tea. Even if you are not a big fan of tea like me, you should definitely try this.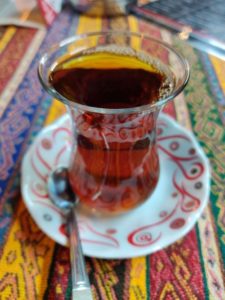 Turkish Sweets
If you have a sweet tooth, you're in for a treat here in Turkey. We tried our hands on:
Baklawa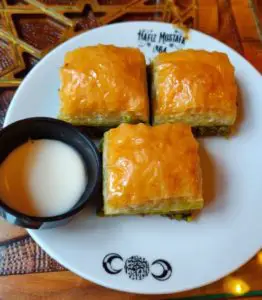 Kadayif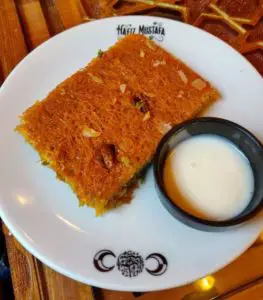 I highly recommend Hafiz Mustafa outlets where you can find these sweets and more to try. Definitely have them fresh and also take some home with you.
So there you have it! That was my Turkey travel itinerary for 10 days. I can't wait to go back again and explore the places that I missed this time around. Do let me know in the comments about your own experiences and if you found this itinerary helpful.
Pin for later