One big question I have been asked regularly after travelling to Iceland is What to wear in Iceland during winter?
The weather in Iceland is quite unpredictable and you might get to experience all seasons in one day. This means one should be well prepared and wear several layers of clothing at all times. Here's a breakup of what I wore during my winter trip and even though I looked like a penguin, I was warm & comfortable throughout.
Also Read: All things Iceland: Important tips for your first Iceland trip
Head
A warm woolen cap is an absolute essential and to make it more photogenic try some colorful beanie or a pom pom hat.
A lot of people don't mention it but neck warmer is a life saver guys! It will shield your neck and face, the most exposed parts of your body, from the bone-chilling winds. Trust me, I had missed this and had to purchase it from Iceland which made my life so much better.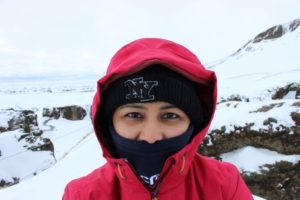 Upper Body
Four layers of warm clothing is good enough to get you through the Icelandic winters. These layers will trap the warmth generated by the body, shielding it from the cold winds outside.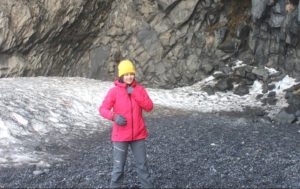 #1 Thermal Baselayer: Go for breathable thermal inner wear that manages moisture and keeps you dry from inside. I recommend going for Merino wool as it is warm and odour-less so I didn't have to worry about washing them for the entire duration of my trip
#2 T-shirt: A regular full-sleeve T-shirt
#3 Woolen sweater: Two woolen sweaters are good enough for a week-long trip
#4 Waterproof & Windproof outer jacket: will be your BFF in the harsh winter. If you are buying from Decathalon, you can simply select a 3-in-1 winter jacket that has been tested for upto -10 degree Celsius
#5 Windproof gloves: will protect your hands from the wind chill. Water resistance is nice to have especially if you've planned for any outdoor adventure activity. Here's the link of mine from Decathalon India
Lower Body:
#1 Thermal Base: preferably Merino wool
#2 Waterproof & Windproof Hiking pants: I purchased mine from Decathalon India
#3 Warm woolen socks
: for an extreme windy & cold day, you can wear two pairs for extra warmth & comfort
#4 Waterproof snow hiking boots: sturdy waterproof shoes are a must-have as you'll be walking across snow & slushy ice and the last thing you would want is to trip or get your feet wet. I recommend the women hiking snow boots from Decathalon or something on similar lines.
Tip:
While walking on the roads, avoid stepping on the black slippery ice. Walking on fresh white snow is far better than walking on ice.
Here's the cost breakup of all of the above items that I purchased:
| | |
| --- | --- |
| Jacket (with an outer windproof shell and inner warm jacket) | $88 |
| Snow hiking boot | $48 |
| Thermal Base layer | $40 |
| Windproof gloves | $17 |
| Hiking pants | $40 |
| Woolen socks (2 pairs) | $13.5 |
| Beanie hat | $6.5 |
| Total Cost | $253 |
Pin For Later