I have always been fascinated by water sports since I was a kid. I started swimming at a young age and it happened to become my favorite form of exercise. Back in '09, I tried water sports for the first time in Goa, when my friends and I went parasailing and rode on the back of a jet ski. I loved it so much that it left me wanting for more. A few years later, I went to Mauritius and tried underwater walking which was a surreal experience. The feeling of walking on the ocean floor, seeing all sorts of marine life, feeding bread to the fishes, clicking pictures and hearing the sound of your own breath was magical. I felt so much at peace with myself and that experience made me want to take the next step – Scuba Diving.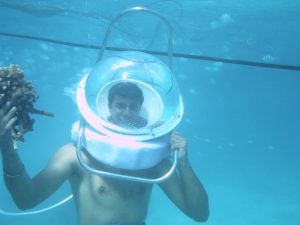 Scuba diving combines underwater walking and swimming put together. It is the next step in the natural progression where you can explore the underwater world at your own pace. It is a lifelong dream of mine to get scuba diving certified and then travel to the world's best scuba diving sites.
In this post, I will take you through three experiences I have had so far, scuba diving in different parts of the world – what I learnt from those experiences and which ones I'd rate the best. I've also compiled a short list of 10 Things to Know before your first dive  which will help you avoid the mistakes that I made.
1. Andaman & Nicobar Islands, India (2013)
My first tryst with Scuba diving was in Havelock in the beautiful island of Andaman. To reach Havelock, we took a 1.5-2-hour long cruise from Port Blair. This small island is so secluded and it only has a single road that takes you from top to the bottom of the island.
I went scuba diving during the afternoon around 4pm with a local agency on my second day on the island. I remember haggling on the price and going for the cheapest option around – Rs. 2500 ($35). The agency took around 30 of us on a small boat and took us to the diving site. There were only 2 professional divers with us who would take us underwater. The math did not add up and I had to wait for 90 minutes wearing the scuba suit before my turn. It was scorching hot and I realized later that I had sunburn around my neck where the wet suit ended.
Once my turn came, I was very excited for my first ever dive. The instructor gave me some tips on how to breathe and trained us for 5 minutes before heading down into the water. I do not know if he was under pressure for taking so many people along or what – but the instructor seemed to be in a rush to get it over with. We went down very quickly into the water and this put a lot of pressure on my nostrils and in my face. I was constantly trying to equalize my ears to release the pressure but was just not able to do it properly. For those new to scuba diving lingo, equalizing your ears basically means reducing the pressure differential between the outer ear and inner ear which happens when you descend into the ocean. You do so by pinching your nose and exhaling outwards.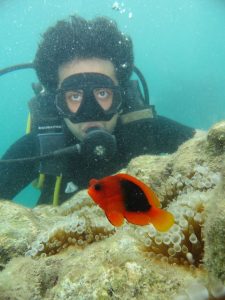 I was still determined to enjoy my experience and I tried to put my discomfort out of my mind. Looking around at the underwater world – the sense of calm that I had experienced during the underwater walk came back. Even though the water was not very clean – it still felt surreal being in that weightless state with the ocean all around you. We stayed underwater for the next 5 minutes before returning to the surface – but again we came up very quickly to the surface which troubled my sinuses.
Overall, I enjoyed the experience at the time. But this was not the end. The pressure changes did not suit me at all and I experienced dizziness due to a sinus infection for the next 2 weeks after returning home. Although the 5 minutes in the dive were OK, I would rate the experience as 4/10.
2

.

Sri Lanka (Jan 2019)
My second experience was diving with a group of friends in Sri Lanka at Unawatana Beach with Sun Diving agency. The overall cost was Rs. 5000 per person (about $70). The agency seemed more professional than the experience I had in India and there were not many people around either.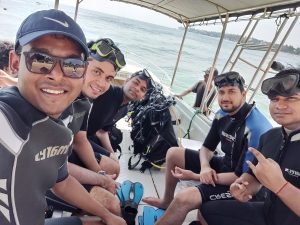 We went for our dive at 8:00am in the morning. The weather was brilliant and the sea was very calm. Unlike Havelock, we were the only group that would be taken for the dive for the slot – just 5 people. Hence, we did not have to wait at all as the diving instructors were ready for us. We had a longer training session of 15-20 minutes and there were 3 instructors for just 5 of us.
With the increased help in training, I was able to get more practice on equalizing my ears, releasing water from my mask and using my gear. When the dive started, I was more prepared to deal with the issue I faced last time around. Although the instructor was not in such a rush and we eased down into the water – I still faced tremendous pressure on my sinuses. But this time around I was able to clear it out with the tricks that were told by the instructor before-hand. I was consistently equalizing my ears and was able to do it much better than last time.
The dive was much longer – almost 20 minutes where we explored the beautiful underwater flora and fauna. We clicked a number of pictures, fed the fishes and really just meditated underwater. There's nothing quite like it, you just hear yourself breathe. I tried to remember everything from the training while enjoying the moment.
Just as we were about to get out of the water, I felt that my mask was filled with some sort of liquid. At the time I thought it was water and ignored it as we were about to get out. But when I took it off, my nose was actually bleeding and the mask was filled with blood. It was only then when my nose started to hurt. I figured I was so lost in the experience that I did not even realize that my nose was bleeding.
After the dive – my body felt really exhausted. It was longish dive and I had lost quite a bit of blood through my nose. I realized later that the reason of the bleed was the immense pressure change in the water. We dove till about 8m and that was quite deep for beginners such as us.
I felt a bit dizzy and just went back to the hotel to sleep it off. After 4 hours of sleep – I was much better. No more dizziness and I could enjoy the rest of the trip. I would rate this experience as an 8/10.
3

.

Fethiye, Turkey (July 2019)
For the third experience, we headed to Fethiye in Turkey– easily the most beautiful location with its deep blue Mediterranean waters. We were part of a cruise ship with over 50 people and around 10 instructors for a day-long trip that had 2 dives scheduled.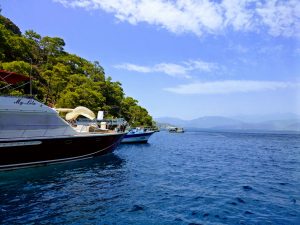 I was a lot more confident going into this one given my last experience was better. I just didn't want to bleed this time though. At the first dive site, we had to wait for about 30 minutes. But thankfully, we didn't have to put on the wet suit before-hand and it was much more comfortable to wait. I swam and snorkeled around the boat with my friends, while we waited for the first dive.
The instructor was a lot of fun. He took me and my friends along for the training. He knew a bit of Hindi and was singing Hindi songs for us. The gear was much better than the ones I had used in India and Sri Lanka and it took only five minutes to get the hang of it. The first dive was supposed be to a depth of 6m and the second dive would take us to 8m. I was happy to see that progression was gradual and unlike what I had experienced in Sri Lanka.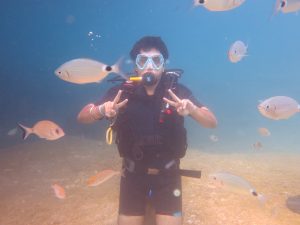 The first dive was incredible. We went into the water slowly and steadily, descending at our own pace. I felt no pressure whatsoever on my sinuses and the whole experience was much more comfortable. The dive was almost 25 minutes long. The sense of calm in the water coupled with the beautiful Mediterranean waters was incredible. The dive did not tire me out, rather I was recharged for the 2nd dive later in the evening.
The 2nd site was even more spectacular. It was about the same duration but we went a bit deeper this time. I faced no issues at all and was very comfortable throughout the dive. There was this feeling of weightlessness and silence that I had been seeking throughout all my diving experiences.
The experience in Turkey was the best Scuba diving experience I have had till now and I'd rate it 10/10. The instructors were very professional, the equipment was top-notch and the overall experience of the cruise was incredible.
Hope my post inspired you take up your first scuba diving session and avoid the mistakes I made. If you've tried scuba diving before, let me know about your favorite experience in the comments below.
This post has been contributed by a special guest – my husband, Ankit 😊
Pin for later: