Cappadocia is a magical land filled with natural wonders, so much so that words are not enough to describe its beauty. It is a region located in central Turkey known for its cave hotels, rock formations, remarkable scenery and of course the most popular thing on Instagram – the hot air balloons. What I didn't know was that Cappadocia is a paradise for hikers and adventure lovers. With multiple hiking trails to choose from – you can spend days just taking in the scenery from the different spots you can hike to. 
With so much to do & see, here's my list of top things to do in Cappadocia if you're visiting for the first time and do not have more than 2-3 days to explore.
1. Derinkuyu Underground City
Cappadocia is home to over 150 underground cities which were built dating back to 3000 BC. Of these, very few have been discovered and only six are open for tourists. The deepest of which is the Derinkuyu underground city with eight levels.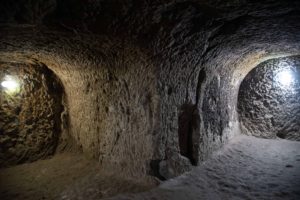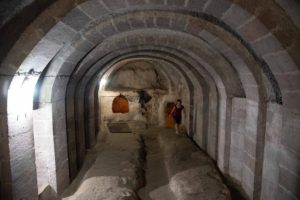 Although it was a spur of the moment thing, I am glad we visited this place. An entire city that used to house thousands of people, along with a church and working plumbing was just a miracle to me. We hired a tour guide for 100 Turkish Lira and he explained the purpose of each and every room and structure built inside the underground city.
Apologies for the pictures though, there wasn't enough light inside and I couldn't really capture the magic of this place on camera.
2. Stay in a Cave Hotel
Cave hotels are very popular in Cappadocia and you will find them spread across the region. It's definitely worth staying here instead of a traditional hotel as you won't get this experience anywhere else.
Here's a glimpse of the hotel I stayed at –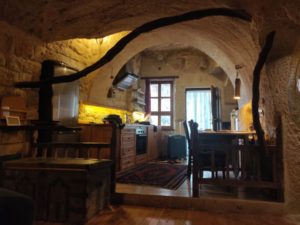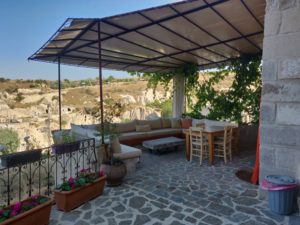 3. Enjoy light & sound show at Zelve Archaelogical Site
The Zelve valley is a very unique place that has been a UNESCO world heritage site since 1985. The history of Zelve dates back to the 9th century. This region was the center of Christian residents and monasteries until the 13th century. The fairy chimneys are unique structures that you can see across the valley. The highlight for me for this region was the sound & light show that uses mapping techniques to dive into the history of Cappadocia. This is a great way to spend the evening and the show is truly one of a kind.
4. Goreme Open-Air Museum
The Goreme Open-Air Museum is a favourite among Instagram influencers. With its picturesque landscape, entirely sculpted by erosion, the museum gives a feeling of standing in a different planet altogether. The museum is filled with ancient paintings, churches and cave houses from ages ago. If you want to know the place in more detail – you can take the audio guide option that will give you great facts about the cave houses, the people who you used to live there and you will really get a great feel about the place.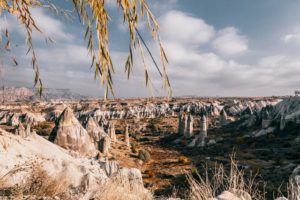 5. Go Hiking
The Cappadocia region is a hiker's paradise. There are more than 20 different hiking trails that you can enjoy and take in the amazing sites of this region. Depending on your comfort zone and interest – you can choose from this wide variety of hikes.
Red Valley Hike

Rose Valley Hike

Pasabag Valley

Lover's Hill

Pigeon Valley

Love Valley

Ihlara Valley

Devrent Valley

Uchisar Castle

Meskinder Valley

Ortahisar Castle

Zemi Valley Hike

Twin Fairy Chimneys

Cavusin Church

Lake Tuz – Pink Salt Lake

Cavusin Valley

Cavusin Castle

Deris Evi Sunset Viewpoint
I went to the stunning Love valley hike. It is called Love valley due to the phallic-shaped rock formations along its path. It is relatively less crowded and you can enjoy your day in raw nature exploring the place. The hike can take anywhere between 2 to 5 hours depending on how far you want to hike upto.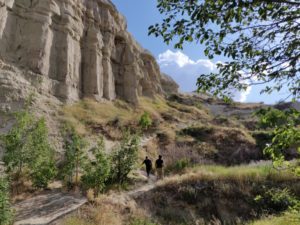 6. Enjoy a traditional Turkish Bath (Hamam)
With so much to see and explore, you are bound to get tired and there's no better way to relax than to go for a traditional turkish bath – Hamam. There are many Hamam joints in Cappadocia especially in Goreme and I would recommend calling ahead and reserving your spot. The bath starts with some time in the sauna, followed by a shower, massage, bubble bath, jacuzzi and then back in the shower. The overall experience really helped us relax after a very tiring few days.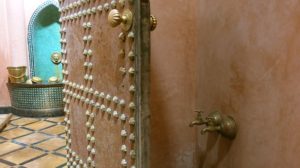 7. Take a Hot Air Balloon Ride
Cappadocia is such a unique place- with the beautiful scenic valleys, underground cities, cave hotels and rock formations. But nothing makes it more unique than the sight of hundreds of hot air balloons flying over the entire region. 
A ride on the hot air balloon costs anywhere between €180 to €500 per person depending on the package you pick. If you want to enjoy the hot air balloon – I suggest booking well in advance as this is one of the most popular things to do in Cappadocia and tickets run out very quickly. You also need to be aware that the rides do not take place everyday and can be cancelled due to weather conditions. Most people recommend taking the balloon ride in the summers but many argue that the winter is also a great time. I leave that up to you to decide.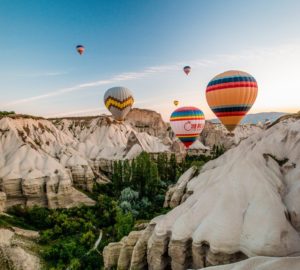 8. If you can't do #7 then just enjoy the show
My friends and I found the price of 180 euros a little too steep and  decided to stay back and watch the Hot Air Balloons show instead. And boy is it a sight to behold!! The pictures here speak for themselves. 
We woke up early just before sunrise in order to catch a glimpse of hot air balloons flying from the roof of our hotel. At Goreme open air museum, we again saw many Instagram influencers posing with backdrops of the hot air balloons for their profiles.
9. Twin Fairy Chimneys
The Twin Fair Chimneys have gained popularity over the years and is often one of the most crowded places in Cappadocia as tourists flock to to witness the marvelous natural formation. I missed checking out this place when I was here and definitely plan to visit once I am in Turkey next.
10. Chill at a local cafe
Roaming around Goreme, you will find many cafes and restaurants where you can sit back and relax with your friends. You can enjoy traditional turkish delicacies, drinks and some hookah. Here's a list of 10 amazing restaurants in Cappadocia that you must visit.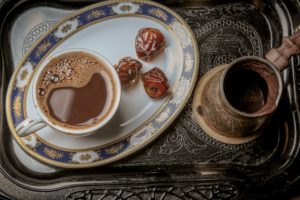 11. Enjoy traditional Turkish sweets
You HAVE to try the traditional Turkish desserts. The list is endless but Baklava, Kadayif and Kunefe are on top of my list. Definitely have them fresh and also take some home with you.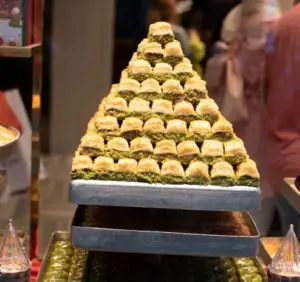 12. Lake Tuz – The Pink Salt Lake
Another place that I missed whilst I was in Cappadocia (it is almost impossible to cover everything! :P) was Lake Tuz. It is technically not in Cappadocia but is a short drive away from Derinkuyu underground city. 
The lake  is pink in color due to the growth in population of the Dunaliella salina micro-algae and Halobacteria. Even though it is such a unique place, it is usually less crowded compared to other popular places in Cappadocia.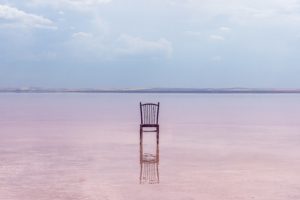 This brings us to the end of my list of incredible things to do in Cappadocia. Let me know about your experiences in Cappadocia in the comments below.
Planning to visit Turkey for the first time? Go ahead and check out my other posts-
Pin for later: